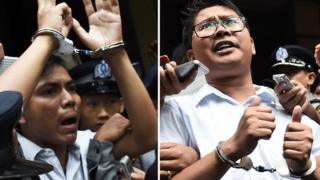 A Myanmar court has rejected an appeal by two Reuters reporters convicted of breaking a state secrets act in September.
Wa Lone and Kyaw Soe Oo were sentenced to seven years in prison in a case widely condemned by other countries and human rights groups.
But in a ruling, Judge Aung Naing called their terms "a suitable punishment".
The defence did not provide enough evidence they were innocent, he said.
Both were arrested carrying official documents handed to them by police officers.
They maintain their innocence, saying the authorities set them up.