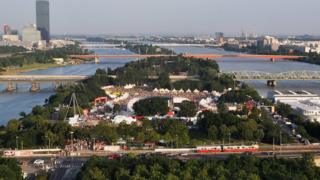 When it comes to music festivals, the biggest may not necessarily be the best.
But some of the best-known – such as Glastonbury or Woodstock – are famous not only for the quality of the acts, but also for their size.
The music festival industry is currently worth $3bn (£2.28bn) globally and continues to grow, according to research by Festicket, which arranges tickets and accommodation for music festivals.
Many festivals highlight the fact they are, by some definition, the largest. So which one is?
According to record-keepers, it's on an island in Austria.
Donauinselfest, or the Danube Island Festival, regularly attracts more than 2 million festival-goers.
Attendance across the three days reached 3.3 million in 2015, earning it the title of "largest attendance at a music festival", according to Guinness World Records.
The record was verified by a specialist consultant on behalf of Guinness.
The team behind the festival was unaware that it held the accolade, telling the BBC in an email: "Wow, we didn't know that!!! You made my day! Thank you!"
About 350,000 people are allowed on the festival site – for free – at any one time, says Alex Khaelss-Khaelssberg, who works in media relations.
It is set on a 4.5km-long island in the middle of the Danube river in Vienna, Austria.
Danube Island already calls itself Europe's largest open-air free festival – which it works out using a combination of counting people in, and estimating the size of the crowds using aerial photography.
Guinness monitors the superlative in each category and so doesn't keep track of 2nd, 3rd or 4th.
Which are some of the other largest?
Mawazine
In the Moroccan capital, Rabat, more than 2 million people attend Mawazine every year. It bills itself as bringing together the best names in Arabic, African and international music for nine days of shows and concerts. It started in 2001 under the patronage of the King of Morocco and most of the acts are free.
According to the British-based research consultancy CGA, Mawazine had a daily capacity in 2016 of 277,000 people.
Summerfest
Summerfest in the US state of Wisconsin, established in 1968, was named by Guinness World Records as the "world's largest music festival" in 1999.
(The official website still claims that title today.)
About 850,000 people attend several days of music and this year it has acts including Arcade Fire and J. Cole.
Glastonbury
Set in 900 acres of countryside in England's south-west, Glastonbury has its own claim to fame – the title of "the largest green-field music and performing arts festival in the world".
The first incarnation in 1970 was a bit of disappointment in terms of numbers though – with attendance at about 1,500. A ticket then cost £1 (£15 in today's money) – entry to the full weekend event in 2017 was about £230.
About 200,000 people attend each day.
More on festivals:
Woodstock Poland (Pol'and'Rock)
The festival in western Poland was allowed to share the same name as the historic Woodstock festival for more than 20 years. But the organisers have now changed it to Pol'and'Rock Festival.
Three days of music and cultural shows are free.
The organisers said that police estimate the most popular acts are watched by 200,000 people.
Rock in Rio
Starting in 1985, 700,000 people enjoy seven days of live music. Since it began, the festival says it has planted 73 million trees in the Amazon rainforest and created more than 200,000 jobs.
Queen performed at the first festival which was attended by more than one million people.
Exit festival
Held in an old fortress in the Serbian town of Novi Sad, more than 200,000 people from 60 countries went to last year's festival. It has a strong following from the UK, Germany, the Netherlands and Belgium, and a growing number of people travel from countries including Russia, Ukraine, Poland, Czech Republic and Slovakia.
– 23% come from neighbouring countries
– 21% from the rest of Europe
– 6% non-European
– 50% from Serbia