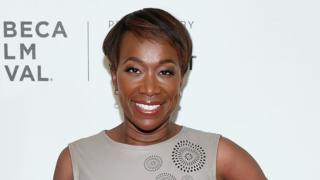 A US TV host says she "genuinely does not believe" she wrote a series of homophobic blog posts that have resurfaced in recent days.
MSNBC's Joy Reid has come under fire after posts that mocked homosexuality and claimed to out people as gay were found on her old blog, The Reid Report.
Earlier this week, she denied making the comments and said her website had been targeted by hackers.
But on Saturday she admitted that there was no evidence for this claim.
"I genuinely do not believe I wrote those hateful things, because they are completely alien to me," she said on her morning programme AM Joy.
"I hired cyber-security experts to see if somebody had manipulated my words or my former blog. And the reality is they have not been able to prove it."
Ms Reid also acknowledged that she had tweeted controversial things in the past which is "why some people don't believe me".
Tweets have resurfaced from 2010, before she was well known, in which she questions conservative commentator Ann Coulter's gender and calls Senator Lindsey Graham "Miss Lindsey".
"Those tweets were wrong and horrible," she said on Saturday.
What do the blog posts say?
Ms Reid's blog resurfaced last November when Twitter user @Jamie_Maz shared old posts that targeted Congressman Charlie Crist.
The posts, which were published between 2007 and 2009, referred to the then Florida governor as "Miss Charlie" and featured the tag "gay politicians".
She later apologised, and said the posts were "insensitive, tone-deaf and dumb".
But earlier this month the same Twitter user shared further posts that appeared to be from her blog that claimed to out people as gay. Other posts focused on homosexuality more generally.
"Most straight people cringe at the sight of two men kissing," one post reads.
"I didn't want to watch the two male characters (in Brokeback Mountain) having sex," another says. "Does that make me homophobic? Probably."
How did Ms Reid first respond?
On Monday, Ms Reid issued a statement to the website Mediate in which she said the newly discovered posts were "fabricated".
"In December I learned that an unknown, external party accessed and manipulated material from my now-defunct blog," the statement said.
"I began working with a cyber-security expert who first identified the unauthorized activity, and we notified federal law enforcement officials of the breach."
She added: "I can state unequivocally that it does not represent the original entries."
But questions were raised about her claim to have been hacked and, on Saturday, she admitted that investigators had found no evidence to prove this.
She did not admit to writing the posts, but said she had "not been exempt from being dumb or cruel or hurtful to the very people I want to advocate for."
"And for that, I am truly, truly sorry," she added.