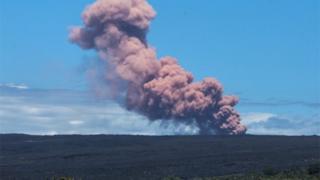 The Mount Kilauea volcano has erupted near a residential area on the largest island of Hawaii, prompting a local state of emergency and mandatory evacuation for local residents.
One witness said lava had burst across a road like a curtain of fire. He said he could smell sulphur and burning trees.
The American Red Cross has opened an evacuation shelter.
The eruption follows a series of strong earthquakes over recent days.
A volcanic crater vent – known as Puu Oo – collapsed earlier this week, sending lava down the mountain's slopes towards populated areas.
Hawaii's Governor says he has activated the Hawaii National Guard.