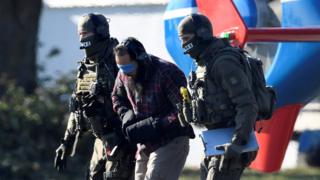 Germany will on Monday deport an accomplice of the 11 September 2001 terror attacks on the United States, Moroccan native Mounir al-Motassadek.
Motassadek has spent almost 15 years in prison for his part in the deaths of passengers aboard the highjacked aeroplanes used in the attacks.
He has served almost his entire sentence, and is being sent to Morocco.
He has always denied being involved in the 9/11 plot, but admitted to being friends with those who did.
German authorities are transporting him under heavy guard.
Photographs taken on Monday showed Motassadek wearing a blindfold and with his hands bound, being taken from prison by helicopter.
Motassadek was the first person convicted in connection with the 11 September attacks against the World Trade Centre and the Pentagon, in which nearly 3,000 people died.
German website Der Spiegel reports that Morocco had insisted Motassadek fly on a regular commercial passenger flight – where he will sit accompanied by several police in row 32.
Once he arrives in Morocco, his precise fate is unclear.
Who is Motassadek?
Mounir al-Motassadek was arrested just months after the 9/11 attacks.
He was friends with Mohammed Atta, the alleged pilot of one of the hijacked planes, and knew other members of the Hamburg al-Qaeda cell.
He has also admitted to having spent time at an al-Qaeda camp in Afghanistan in 2000, and having signed Atta's will.
But precisely what level of involvement he had in the 11 September attacks was the subject of five years of trials, with multiple convictions, appeals, and overturned verdicts.
He arrived in Germany as a 19-year-old student in 1993, when he studied electrical engineering at Hamburg University.
German prosecutors believe he met Mohammed Atta there, and maintained that relationship while Atta founded a radical Islamic association with links to al-Qaeda.
After the attacks on the US, investigators discovered that Motassadek had power of attorney over a bank account owned by Marwan al-Shehhi: the alleged pilot of a second plane flown into the World Trade Center.
He also arranged a bank transfer for some of the cell's members, and knew when they were in the United States where they acquired their flight training.
That led prosecutors to label him the group's treasurer, and an accomplice to the attacks.
But Motassadek said his actions merely amounted to favours for friends – and said he had never heard of the plot until he saw his friends' faces appear on television news.
He went on trial in 2002, and was jailed for 15 years in 2003 for aiding the 11 September plotters. But that verdict was overturned by Germany's Supreme Court in 2004.
A fresh trial concluded in 2006, which saw him sentenced for a different charge – membership of a terrorist organisation, which did not include him knowing about the plot.
He appealed – and in 2007 was, in the final trial, found guilty of being an accessory to murder.
He was handed a 15-year sentence: the maximum the German court could hand down for that crime.