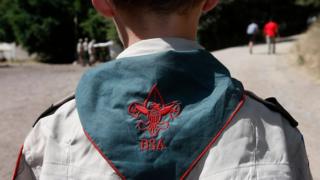 The Church of Jesus Christ of Latter-day Saints (LDS) will end its relationship with the Boy Scouts of America, a joint statement says.
The decision marks the end of a 105-year-old tradition that stated any boy in a Mormon congregation automatically became a Boy Scouts member.
The Mormon Church said it severed ties with the Scouts because it hopes to create its own global youth programme.
The partnership will conclude on 31 December 2019, the statement says.
"The church has grown from a US-centred institution to a worldwide organisation, with a majority of its membership living outside the United States," the joint statement released on Tuesday said.
"The church has increasingly felt the need to create and implement a uniform youth leadership and development programme that serves its members globally."
Over the last century, close to 20% of the 2.3 million Boy Scouts in the US have been Mormon boys, which made the church the Boy Scouts' largest partner.
The church's decision follows a marked shift towards inclusivity in recent years by the Boy Scouts.
In 2015, the Mormon Church said it was "deeply troubled" by the Boy Scout's decision to revoke the ban on openly gay adult scout leaders.
The Boy Scouts had announced they would accept gay scouts two years prior, and the church did not offered public comment at the time.
Mormon leaders decided to remain with the Boy Scouts in 2015 despite their concerns, but announced it would scale back participation in Boy Scout programmes in 2017.
The Mormon Church is against same-sex marriage and there are no openly gay men or women in leadership positions within the church.
The church says on its website "the doctrine of marriage between a man and a woman is an integral teaching" and that this doctrine "will not change".
You may also be interested in:
Last week the Boy Scouts revealed it would change its name to Scouts BSA as of February 2019, removing the word boy as it prepares to welcome girls.
In Tuesday's joint statement, the church said it "continues to support the goals and values" of the Boy Scouts, expressing a "profound desire for Scouting's continuing and growing success".