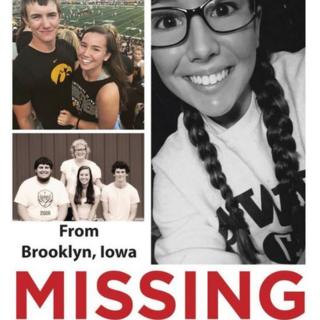 Investigators are scanning social media and Fitbit in an effort to trace a missing 20-year-old jogger.
University student Mollie Tibbetts vanished over a week ago near her hometown of Brooklyn, Iowa. She was last seen on an evening run.
Friends say she is an avid runner, and always wears her activity-tracking device when exercising.
The FBI have joined the search, and are now sifting through her electronic data.
Mitch Mortvedt, of the Iowa Division of Criminal Investigation, said on Wednesday that investigators had executed search warrants of her Snapchat, Instagram and Facebook accounts, in addition to her Fitbit.
"We are getting a lot of information back from that process," he told the Des Moines Register.
"We are very hopeful with the electronic data we are getting back."
Mr Mortvedt added that he believes it is the first case in Iowa in which "we have used specifically Fitbit info".
Ms Tibbets vanished on 18 July while dog-sitting at the home of her boyfriend and his brother in Brooklyn, a small community 70 miles (112km) east of Des Moines.
She was last seen by neighbours on a run, wearing shorts, trainers and a black sports bra.
Poweshiek County Sheriff Tom Kriegel said Wednesday that police were ruling out her boyfriend, Dalton Jack, and his brother as possible suspects. Both men were away working at the time.
Mr Mortvedt added that with each passing day the possibility of it being an abduction grows larger.
"We haven't ruled anything out, but it's been a week so it's more and more suspicious to us," he said.
"From what we've learned about Mollie, this is highly, highly out of character for her, as far as would she walk away."
Volunteer crews began searching corn fields, barns, dirt roads and drainages in the area for her last Thursday, after Mr Jack reported that she had not responded to his Snapchat message.
The searches were later abandoned as the FBI joined the investigation.
"She is a creature of habit and went the same routes, so we're going back and covering those areas and interviewing people again," Mr Mortvedt said.
He said investigators have "put together a pretty solid timeline" for the night of her disappearance.
'Most caring'
Ms Tibbetts was about to begin her second year at the University of Iowa, her mother Laura Calderwood told local media.
Student Jayce Knight described her to CBS as "one of the most caring you'll ever meet".
Ms Tibbetts was born in San Francisco, but moved to Brooklyn at a young age with her mother.
The missing student has previously won a state speech competition, and ran cross-country and performed in school theatre.
She and her boyfriend had been together for three years, and were preparing for a trip to the Dominican Republica for his brother's wedding.