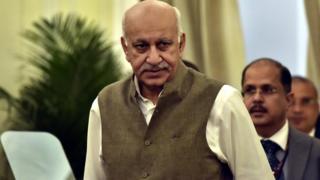 Indian junior foreign minister MJ Akbar has threatened legal action against women who have accused him of sexual harassment and assault.
Mr Akbar, who returned from an official trip abroad on Monday, has called the allegations "false" and "baseless".
The former prominent newspaper editor also added that he will not be stepping down from his post.
Mr Akbar is the most high profile figure so far to be named in what is being called India's #MeToo movement.
One of India's most influential editors, he has edited leading English-language newspapers such as The Telegraph and The Asian Age.
The charges against him range from "predatory behaviour" to outright sexual assault.
In a statement posted on Twitter on Sunday, Mr Akbar said that the allegations are politically motivated as the country prepares for a general election next year.
"Why has this storm risen a few months before a general election? Is there an agenda? You be the judge," he wrote.
The minister was first named last week by senior journalist Priya Ramani, who retweeted an article she had written for Vogue India a year ago titled "To the Harvey Weinsteins of the world", where she recounted what she called her first experience of workplace harassment.
Ms Ramani did not name anyone in the original piece, but said in a tweet on 8 October that the article had been about Mr Akbar.
Since then, other women have come forward with their own stories naming Mr Akbar. At least one other anonymous account is believed to be about him.
Many journalists and women have taken to social media to support those who have accused Mr Akbar of harassment.
Comedians, journalists, authors, actors and filmmakers have been called out on social media in the past week.
Veteran actor Alok Nath, and film directors Vikas Bahl, Subhash Ghai and Sajid Khan are among the other high-profile figures to be accused of sexual assault. They have all denied the allegations.