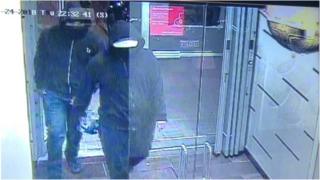 Canadian police say that all resources are being used in a major manhunt for two men who set off a homemade bomb at a restaurant in a Toronto suburb.
Peel Regional Police has asked for public help to identify the men behind the "horrendous act", which injured 15 people, three critically.
Two suspects entered the Bombay Bhel restaurant in Mississauga and detonated the improvised bomb on Thursday night.
The pair then fled the scene after the blast at 22:30 local time.
Peel Regional Police Chief Jennifer said: "There is no indication this is a terrorist act, no indication this is a hate crime."
But she noted investigators are not ruling out any particular motive at this early stage in the investigation.
Police issued CCTV footage of the two suspects, describing them both as men around 5ft 10in tall with light or fair skin, and appealing for help identifying them.
One man was described as "stocky" and in his mid-20s, while the other was of thin build. Both wore blue jeans and dark hoodies, and had covered their faces.
India's High Commissioner to Canada Vikram Swarup tweeted on Friday morning that India's consul general in Toronto had visited the three critically injured Indian-Canadians in hospital.
Police say two separate private birthday parties were being held in the restaurant when the blast went off.
The three people who were most severely injured are a 62-year-old woman and a 48-year-old woman, both from Mississauga.
The third is a 35-year-old man from the neighbouring city of Brampton.
The other victims range in age from 23 to 69 years of age. They have all been treated and released from hospital.
Chief Evans said her police force is working with others in the region as well as provincial and federal law enforcement in the investigation.
Mississauga Mayor Bonnie Crombie called the incident a "heinous crime" and said those involved need to be brought to justice.
"This is not the Mississauga I know," she told journalists on Friday morning.
Mississauga is Canada's sixth largest city.