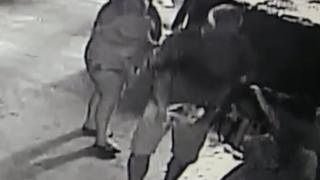 A shark disguised by thieves as a baby in a pram and abducted from a Texas aquarium has been found and returned.
The horn shark – called Miss Helen – "is in quarantine right now resting" and "is doing good so far", San Antonio Aquarium said.
On Saturday, the shark was grabbed from an open pool by two men and a woman, then wrapped in a wet blanket and put in the bucket with a bleach solution.
The public helped track the thieves and one suspect is now in custody.
An aquarium employee had noticed the abduction and had immediately alerted management.
But the suspects managed to leave the aquarium and escape in a car.
Members of the public helped police track down the vehicle on Monday, after watching surveillance footage of the theft broadcast on local media outlets.
Police officers then discovered that one of the suspects maintained an extensive collection of marine life in his home.
"When we got into the garage and into the house it looked like almost a mock up of [the San Antonio Aquarium]," Leon Valley police chief Joseph Salvaggio was quoted as saying.
"He knew very much what he was doing and kept that animal alive."
The suspect is now in custody, and police want to question his two accomplices.
The San Antonio Aquarium later expressed hope that the small shark would "recover fully from the shock, and return to her home she is used to".
"Sharknapping: Unsuccessful! Welcome home Miss Helen!" the aquarium said.