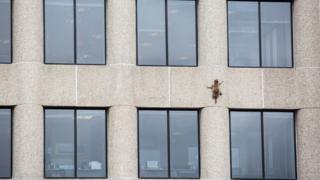 A daredevil raccoon in St Paul, Minnesota, has had the internet on tenterhooks after scaling 23 floors of a building for nearly a day.
The critter, dubbed #MPRraccoon after the radio station opposite the high-rise, is trending worldwide on Twitter.
Crowds gathered at the building after he went viral, and local media streamed his perilous climb to the world.
Twitter celebrated as the animal reached the roof at 03:00am (07:00 BST) where cat food inside a trap awaits.
It had been descending the building for hours before that, as an anxious audience watched on into the night.
Evan Frost and Tim Nelson, journalists with Minnesota Public Radio (MPR), have been documenting the raccoon's journey on Twitter.
"One of my colleagues spotted the raccoon on, kind of the ground floor, sitting on a ledge on Monday – it looked like a brown lump, almost like a cat sitting there," Evan Frost told the BBC in the early hours of Wednesday.
"We went out there at about 8:30 on Tuesday morning and saw it was a raccoon. Two workers in the building got out a couple of long planks – sort of making a kind of ladder for it."
But that initial rescue failed – and ended up scaring the animal upwards.
It spent much of Tuesday going up and down the building's floors, occasionally napping on ledges.
"It was heartbreaking to see yesterday," Tim Nelson told the BBC on Wednesday. "We couldn't imagine how this would end well for him".
Raccoons are common in the US, but are usually found in alleys or riffling through rubbish bins – leading to the common animal nickname "trash panda".
"I was talking to a wildlife expert yesterday who said there might be a dozen or two dozen of these raccoons in every square mile here in Minnesota – they're everywhere. But you don't see them scaling office towers," Mr Nelson said.
Both men were overwhelmed by the global reaction to their posts about the raccoon's ascent.
"I think it just seems like something a lot of different people can get behind," Mr Frost told the BBC.
"It's kind of absurd that I took a couple of pictures of an animal that people usually hate and think is disgusting, and all of a sudden it has thousands of retweets and likes."
Mr Nelson grew up in a town called Coon Rapids, named after the mammals.
"To think that one of these little animals would top the trending on twitter is a complete surprise to me," he said.
Both men laughed when asked if they had managed to get any work done during raccoon-watch.
Although the animal was filmed reaching the top shortly before 03:00 local time – its fate won't be fully known until animal services get up to check the traps set on the roof in the morning.
The animal has become an unlikely hero for many on twitter – with users dubbing his unlikely success an inspiration.
James Gunn, who directed Hollywood film Guardians of the Galaxy, which featured a hero raccoon, at one point on Tuesday offered to donate $1,000 (£750) to charity in the name of anyone who was able to save the #MPRraccoon.
A Twitter account in the animal's name already has over 2,500 followers – and users online have made fan-art and even toys of the animal.
You may also like: