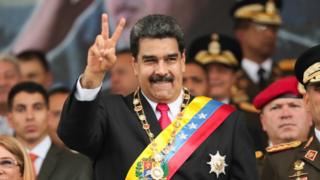 Venezuelan President Nicolás Maduro has called Mike Pence a "poisonous viper" after the US vice-president met Venezuelan migrants in Brazil.
Mr Maduro said Mr Pence, who had accused him of running a "devastating dictatorship", made predictable statements every time he spoke.
He also accused the EU of kneeling to the US by extending sanctions against Caracas.
Tens of thousands of Venezuelans have fled the country's economic crisis.
Last year scores of people were killed in clashes during protests against hyperinflation and food shortages.
More than 32,000 Venezuelans have sought asylum in Brazil and thousands more have applied for temporary residency there.
Others have sought better prospects in countries such as Colombia and Chile.
Earlier this week the EU imposed sanctions on 11 Venezuelan officials following elections in May which the EU said were neither free nor fair.
Among those sanctioned was newly nominated Vice-President Delcy Rodríguez.
The polls, which the opposition boycotted, saw Mr Maduro elected to a second six-year term in office.
Mr Maduro accuses the US of waging an "economic war" to try to overthrow his government and seize the country's oil wealth.