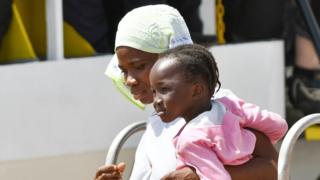 Migration has once again become one of the most important issues in Europe.
Italy's decision in June not to accept the rescue vessel Aquarius with more than 600 migrants on board attracted widespread criticism, and the issue of border controls for migrants threatened to break up the German coalition government.
So, how many people are arriving now, where are they from and what is happening to those who have arrived in the EU in previous years?
Number of arrivals has been greatly reduced
The highest number of arrivals – 1,015,078 – was recorded in 2015. More than 800,000 of them were trafficked via the sea from Turkey to Greece, and the majority of them continued to travel through Europe to reach Germany and Sweden.
Since 2015, the number of refugees and migrants arriving in Greece has fallen dramatically, after the EU and Turkey signed an agreement to send back to Turkey migrants who do not apply for asylum or whose claim was rejected.
While the number of arrivals has dropped in Greece, the number of people arriving in Italy shows little change on the 2015 levels. In 2016 and 2017, 180,000 and 119,000 arrived respectively, smuggled by traffickers from North Africa and rescued at sea. In 2017, Italy received 67% of the EU's migrant arrivals.
However, since January this year, the number of arrivals in Italy has greatly reduced, with 17,000 arriving by mid-July 2018.
In the same period, Spain received the highest number of migrants and refugees – more than 20,000 – the majority of them by sea and around 2,800 by land to Ceuta and Melilla, two Spanish enclaves in North Africa.
The UN refugee agency (UNHCR) says that routes used by human traffickers are constantly changing and are dependent on a number of factors, but the drop in numbers reaching Italy is attributed mainly to its close co-operation with the Libyan coastguard.
A total of 14,500 have arrived in Greece so far this year, bringing the total number of arrivals in the EU in 2018 to just over 49,000.
Syria is still the most common country of origin of those arriving in Greece. Iraqis, Afghans, Palestinians, Congolese and Iranians make up many of the other arrivals.
In Italy and Spain, arrivals from African countries top the list. In Italy, the most common country of origin is Tunisia, followed by Eritrea, Nigeria, Ivory Coast and Sudan. Spain received the largest number of migrants and refugees from Syria, Guinea, Mali, Morocco, Ivory Coast and a number of other Sub-Saharan African countries.
Crossing the Mediterranean is becoming deadlier
The highest estimated number of dead and missing migrants in the Mediterranean – 5,096 – was recorded in 2016, despite a significant drop in migrant crossings compared with the previous year. Since then the number of deaths has fallen.
The Mediterranean crossing is becoming deadlier every year, if the number of estimated deaths is viewed as a proportion of the number of people who actually manage to reach the EU.
In 2015, there was one death in every 269 arrivals recorded. In 2016, this went up to one death in 72 arrivals and in 2017 to one in 57 arrivals.
But based on figures to mid-July 2018, the deadliest year so far has been this year, with one death for every 34 people who arrived in the EU.
That's because in 2014 and 2015 the majority of refugees and migrants arriving in the EU entered Greece from Turkey, using a much shorter sea route, while since 2016, that has been replaced by a much longer and more dangerous route – to Italy from Libya.
Syrians top asylum seekers list
The top countries by origin of asylum seekers in the EU since 2014 are Syria, Iraq, Afghanistan, Nigeria and Pakistan, all countries with recent or ongoing conflicts.
Between 2014 and 2017, a total of more than 919,000 Syrians applied for asylum in the EU.
Asylum seekers from Eritrea, Bangladesh, Somalia, Iran and a number of Sub-Saharan countries are among the top 10 countries of origin of those who have been applying for asylum in the EU since 2014.
Germany took the highest number of asylum seekers
Sharing the burden of asylum applications equally between the EU countries is once again the top issue on the EU agenda. The June EU summit, where the leaders agreed that member states should distribute asylum seekers among themselves, has not solved the issue because the redistribution will be only on a voluntary basis.
The number of first-time asylum applications reached a record level in 2016 and has fallen since.
Germany granted the highest number of asylums
Each asylum application is assessed on an individual basis. The process can take many years, during which the countries provide those who applied for asylum with basic housing, food, education and healthcare.
At the end of the process, asylum is granted to those who can prove they fled war and persecution, but those who do not meet the criteria are refused asylum.
The top country for successful asylum applications is Germany, where more than 60,000 were granted asylum in 2017, followed by France, the UK, Sweden and Austria.
Failed asylum seekers
The governments of the EU countries have warned that those who do not have a legitimate asylum claim will be returned to their country of origin.
The European Commission estimated that there were more than two million people staying in the EU illegally in 2015. Hundreds of thousands of those who do not qualify for asylum have been returned since then, but there are still hundreds of thousands of undocumented migrants living in the EU.
The European Commission says it does not want its migration policy to be judged on how many returns there have been and that its aim is that everyone who qualifies for asylum gets it, with people who are not eligible not coming in the first place.
A note on terminology: The BBC uses the term migrant to refer to all people on the move who have yet to complete the legal process of claiming asylum. This group includes people fleeing war-torn countries such as Syria, who are likely to be granted refugee status, as well as people who are seeking jobs and better lives, whom governments are likely to rule are economic migrants.