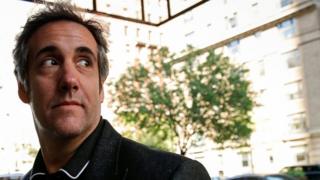 Donald Trump's former lawyer Michael Cohen has said his loyalty will "always" be to his family and country over the US president.
He also indicated to ABC News he would co-operate with federal prosecutors, even if that were to go against the president's interests.
Mr Cohen said previously he was so loyal to Mr Trump he would "take a bullet for him".
The lawyer is under investigation for his business dealings.
In his first interview since his offices were raided by the FBI in April, Mr Cohen also made clear he will refuse to be cast as the "villain of this story".
Mr Cohen – who has not been charged – is under investigation for possible bank and tax fraud, as well as possible violation of election law, Reuters news agency reports.
The latter is understood to relate to Mr Cohen paying off porn star Stormy Daniels during the 2016 election, which could count as an illegal contribution to President Trump's campaign.
Mr Trump admitted the money had exchanged hands in May.
Mr Cohen's offices had been raided by the FBI the month before following a referral from Robert Mueller, the special counsel investigating possible Russian interference during the 2016 election.
Questions have abounded over whether or not Mr Cohen – who denies any wrongdoing – would co-operate with prosecutors.
But during the ABC interview with George Stephanopoulos, Mr Cohen said his "first priority" was his family.
He will "not be a punching bag as part of anyone's defence strategy", he warned. "My wife, my daughter and my son have my first loyalty and always will. I put family and country first."
In comments which appeared to further distance himself from Mr Trump, Mr Cohen said: "I don't like the term witch hunt. As an American, I repudiate Russia's or any other foreign government's attempt to interfere or meddle in our democratic process."
Mr Trump has repeatedly referred to the Mueller investigation as a "witch hunt". The president too denies any wrongdoing.