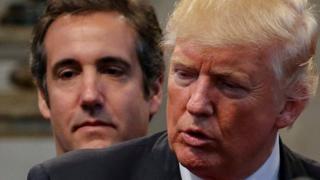 President Donald Trump's former lawyer has said his client knew in advance of a June 2016 meeting between his aides and a Russian delegation that offered to help his campaign, US media report.
Michael Cohen says he was present when Mr Trump's eldest son, Donald Trump Jr, informed his father of the meeting.
He is reportedly willing to state this to the special counsel investigation into alleged Russian election meddling.
Mr Trump denied knowledge of the meeting until a year later.
The meeting at Trump Tower in New York City involved Mr Trump's son, his son-in-law Jared Kushner, then-campaign chairman Paul Manafort and an influential Russian lawyer, Natalia Veselnitskaya.
It was set up after a Russian intermediary contacted Mr Trump Jr with a promise to provide material that would "incriminate" Hillary Clinton – the Democratic candidate in the 2016 presidential election.
According to CNN and NBC, Mr Cohen does not have any audio recordings to support his account but is willing to assert it as part of the ongoing investigations into Russian election interference.
From friend to foe
By Jon Sopel, North America Editor, BBC News
Michael Cohen is turning into a dangerous adversary for the US president.
Donald Trump Jr and the president's son-in-law, Jared Kushner, have both testified – one to Congress, the other to the special counsel – that the president knew nothing about the meeting until details of it emerged a year later.
What's unclear is whether Michael Cohen has anything to corroborate his claim. That's led President Trump's new lawyer Rudy Giuliani to launch a scathing attack on Mr Cohen's character, describing him as a "pathological liar".
Until very recently Michael Cohen had said he would take a bullet for the president. He now seems to be pointing a gun at Mr Trump's head.
In response to the allegation, Mr Trump's lawyer Rudy Giuliani told NBC that Mr Cohen "is not credible".
"It's not true," he said. "Why would you expect it would be true from someone like Cohen? A lawyer who would tape their own client is a lawyer without any character."
His comments refer to reports that Mr Cohen secretly recorded the president discussing payments to a former Playboy model.
The tapes were reportedly discovered during an FBI raid on Mr Cohen's property earlier this year in New York.
Mr Trump insists he has done nothing wrong and says such a recording would be "totally unheard of and perhaps illegal".