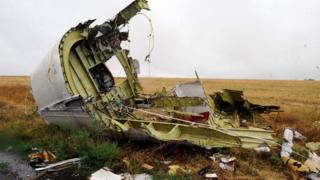 Australia and the Netherlands have formally accused Russia of being responsible for downing a Malaysia Airlines passenger jet in 2014.
All 298 people on board MH17, which was en route from Amsterdam to Kuala Lumpur, died when it was shot down over rebel-held territory in Ukraine.
On Thursday, Dutch-led international investigators concluded that the missile belonged to a Russian brigade.
Russia has denied any involvement in the plane's destruction.
It says none of its weapons were used to bring down the plane.
The decision of both the Netherlands and Australia was announced in a statement from the Dutch cabinet.
"On the basis of the [joint international team's] conclusions, the Netherlands and Australia are now convinced that Russia is responsible for the deployment of the Buk installation that was used to down MH17," Dutch foreign minister Stef Blok said.
"The government is now taking the next step by formally holding Russia accountable."
The statement added, however, that holding a nation state responsible for a breach of international law would involve "a complex legal process", the statement said,
Australia and the Netherlands have asked Russia to enter talks as a first step, but held out the prospect of taking the case to an international court.
"We call on Russia to accept its responsibility and cooperate fully with the process to establish the truth and achieve justice for the victims of flight MH17 and their next of kin," Mr Blok said.