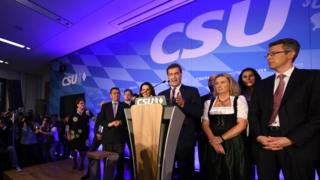 Angela Merkel's sister party suffered massive losses in Bavaria's state elections, exit polls suggest, in a blow to the German chancellor.
The CSU is set to lose its absolute majority in the state parliament.
The Greens surged into second place and the anti-immigration AfD entered the state parliament for the first time.
The CSU has ruled Bavaria almost single-handedly since 1957, but has lost support as opinion becomes polarised over issues like migration.
Exit polls for major broadcasters said the CSU (Christian Social Union) won about 35.5%, down 12 points on four years ago, with the left-leaning pro-immigration Greens on 19%.
The Alternative for Germany (AfD) came fourth with 11%, behind a collective of independent candidates known as the Free Voters.
Mrs Merkel's national coalition partners the centre-left Social Democrats (SPD) trailed in fifth with 10%, their vote halved.
The AfD's success in Bavaria has not been as great as in eastern Germany, but it appears to have taken large numbers of votes from the CSU.
But by echoing some of the AfD's hardline policies such as on migration, the CSU also seems to have lost the support of more moderate voters.
Bavaria key facts
Nearly 13 million residents and the biggest by area of Germany's 16 federal states
Capital Munich is Germany's third-largest city, after Berlin and Hamburg
Second-highest GDP out of 16 German states
Historically conservative region, with strong Catholic and local traditions
Industrial powerhouse: car and IT sectors especially strong, rich in family-run firms
The poll is a serious setback for Mrs Merkel, just months after she formed a fragile coalition with the CSU and SPD – both of whom suffered huge losses in Bavaria.
The BBC's Jenny Hill in Bavaria says the election illustrates the complexity of the challenge faced by so many of Europe's large established parties.
It's not simply the rise of the far right, she says, but that voters are walking away in favour of smaller, newer movements.