US First Lady Melania Trump has announced a campaign to teach children the importance of social, emotional and physical health.
The "Be Best" initiative aims to promote healthy living, using social media in positive ways and combating opioid abuse, she said.
Mrs Trump said it was "our generation's moral imperative to take responsibility and help our children".
The first lady announced the initiative in the Rose Garden at the White House.
"As we all know, social media can be both positively and negatively affect our children, but too often it is used in negative ways," she said on Monday.
"When children learn positive online behaviours early on, social media can be used in productive ways and affect positive change."
Mrs Trump has indicated in the past that she planned to focus on cyberbullying and developing positive habits with social media.
In February, she called on adults to promote the values of "encouragement, kindness, compassion and respect" online.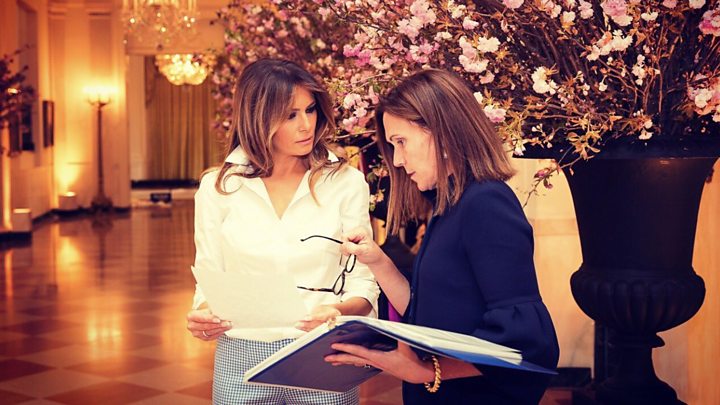 But critics questioned whether her husband, President Donald Trump, followed her advice in his own online interactions.
The president has previously come under fire for using Twitter to launch personal attacks on people and share inflammatory content.
---
A new pledge
Tara McKelvey, BBC News White House Reporter
Standing at a podium in the Rose Garden on Monday, First Lady Melania Trump announced a set of initiatives to help children.
"They are our future," she said, adding: "I want to nurture and protect the most valuable part of our society – children."
She was – as usual – overshadowed by her husband. He sat in the front row and listened as she spoke. After she finished her remarks, he stood and praised her "sincerity".
He also signed a proclamation that stated 7 May was devoted to "Be Best".
He said: "Today we pledge to be best – for our families, our communities and our nation."
A white, brown and blue logo – along with the motto: "Be Best" – were displayed on giant posters that were hung outside the Oval Office ("Is that grammatically correct"? asked one member of the audience, and he laughed).
As first lady, she said, she'll focus on an array of projects that promote the well-being of children: these range from programmes that assist babies exposed to opioids to efforts that help protect children on the internet.
---
She invited her husband, President Donald Trump, to the podium to sign a proclamation giving an official imprimatur to her campaign.
The first lady is not known for tactile public displays with her husband, but the couple walked back into the White House holding hands.
Their joint appearance follows a Washington Post report on a supposed rift between the first couple.
The article said that Mrs Trump has "erected a de facto wall between the East Wing, where she is renovating her office and enjoying growing popularity, and the West Wing, where her husband and Ivanka Trump, her eldest stepdaughter, have offices".
White House press secretary Sarah Sanders described the report on Monday as "outrageous and ridiculous".