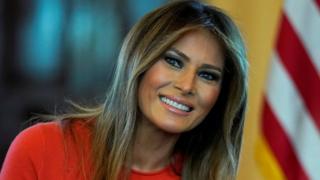 US First Lady Melania Trump has undergone surgery for what the White House described as a benign kidney condition.
Her office said surgeons had performed an embolisation procedure at the Walter Reed National Military Medical Center.
The surgery was successful and there were no complications, her spokeswoman added.
Mrs Trump, 48, is expected to spend the rest of the week recovering at the medical centre, in Bethesda, Maryland.
President Donald Trump tweeted that he was on his way to visit her.
Embolisation is most often used to block the blood supply to a tumour, benign or cancerous.
"The first lady looks forward to a full recovery so she can continue her work on behalf of children everywhere," Mrs Trump's spokeswoman Stephanie Grisham said in a statement.
Last week, Mrs Trump unveiled a "Be Best" initiative aimed at teaching children the importance of social, emotional and physical health.
She said the campaign aimed to promote healthy living and to combat opioid abuse.
It was also announced on Monday that former US Democratic Senate Majority Leader Harry Reid, 78, had undergone surgery for pancreatic cancer.
Mr Reid's family said surgeons at Johns Hopkins Hospital in Baltimore were "confident that the surgery was a success and that the prognosis for his recovery is good".
Doctors had caught the problem early during a routine screening, the statement said.
US Republican Senator John McCain, 81, who is battling a rare form of brain cancer, was among those who sent Mr Reid his best wishes, tweeting: "From one cantankerous senator to another, sending my prayers and best wishes to @SenatorReid as he recovers from a successful surgery."