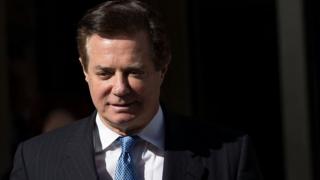 Lawyers for ex-Trump aide Paul Manafort have told a court that his deputy led a "secret life" and told so many lies he could not keep track of them all.
Mr Manafort's defence team is cross-examining his former right hand man, Rick Gates, who is now star witness for the prosecution.
Gates told the court on Monday that Mr Manafort ordered him to commit fraud.
This is the first criminal trial to come from the Department of Justice-led inquiry into alleged Russian meddling.
Kevin Downing, Mr Manafort's defence attorney, began his line of questioning on day six of the trial by asking about Mr Gates' co-operation with special counsel Robert Mueller.
"When did you start providing false and misleading information to the special counsel's office?" he began.
Gates, 46, is facing up to six years in prison under the terms of a plea deal he struck with prosecutors in February when he pleaded guilty to two charges of conspiracy and lying to the FBI.
In the middle of questioning, Mr Dowing asked: "There was another Richard Gates, isn't that right? A secret Richard Gates?"
Before he could clarify the question, Mr Gates responded quietly that he had had an extramarital affair.
"As part of your secret life, did you have a flat? Is that what they call an apartment in London?" Mr Downing asked.
Mr Gates acknowledged that he had maintained a place in London for two months, and stayed in luxury hotels as part of the relationship.