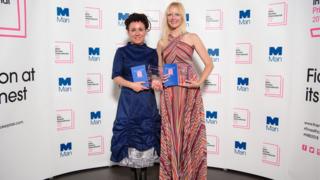 Olga Tokarczuk has become the first Polish writer to win the Man Booker International Prize.
Ms Tokarczuk took the £50,000 prize for her novel Flights. She will split the cash with translator Jennifer Croft.
The annual award goes to the best work of translated fiction from around the world. Previous winners include David Grossman and Chinua Achebe.
Five judges picked Flights out of 108 submissions, and announced the winner in a ceremony in London.
Lisa Appignanesi, who chaired the judges' panel, called Ms Tokarczuk "a writer of wonderful wit, imagination and literary panache".
In a press release, the Man Booker International describes Flights , as "a novel of linked fragments from the 17th century to the present day, connected by themes of travel and human anatomy".
In one of them, the Dutch anatomist Philip Verheyen discovers the Achilles tendon as he dissects his own amputated leg.
The international award, created in 2005, is separate to the Man Booker Prize, which is given to the best original English language novel each year.
Man Booker International Prize 2018 shortlist
Vernon Subutex by Virginie Despentes (France), translated by Frank Wynne
The White Book by Han Kang (South Korea), translated by Deborah Smith
The World Goes On by Laszlo Krasznahorkai (Hungary), translated by John Batki, Ottilie Mulzet and George Szirtes
Frankenstein in Baghdad by Ahmed Saadawi (Iraq), translated by Jonathan Wright
Like a Fading Shadow by Antonio Muñoz Molina (Spain), translated by Camilo A Ramirez
Ms Tokarczuk is a famous novelist in her home country, where she initially trained as a psychologist at the University of Warsaw.
She has written eight novels and two collections of short stories.
Ms Croft translates Polish, Spanish and Ukrainian into English, and is a founding editor of the Buenos Aires Review.
Flights beat out shortlisted entries from previous winners Han Kang and Laszlo Krasznahorkai, who claimed the prize in 2016 and 2015, respectively.
Each shortlisted author and translator automatically receives £1,000. Before 2016, the Man Booker International was awarded every second year to an author for their entire body of work.