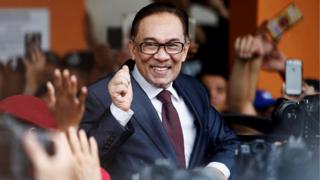 Malaysian politician Anwar Ibrahim has been freed from jail, paving the way for his return to politics.
Once seen as a potential future leader, he had been jailed on charges of sodomy and corruption after falling out with the government.
Malaysia's new Prime Minister Mahathir Mohamad sought a pardon for Mr Anwar, which was granted on Wednesday morning.
Mr Mahathir has promised to step aside for Mr Anwar to become prime minister within two years.
The politician was jailed for a second time three years ago on what he said were trumped-up sodomy charges.
For years he had been heading Malaysia's opposition movement, which has just defeated the former ruling party for the first time in the country's history.
Last week's shock election victory followed a reconciliation between Mr Anwar and Mr Mahathir, who sacked and jailed him 20 years ago during his first stint as prime minister.
Mr Anwar walked free out of a hospital in the capital Kuala Lumpur where he has been undergoing treatment, getting into a car to head for the audience with the king.