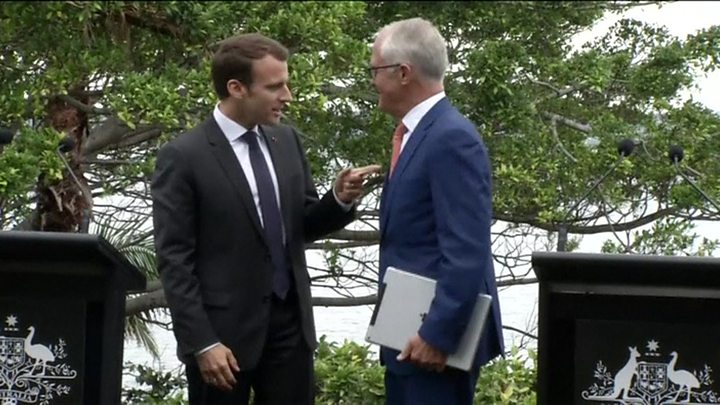 French President Emmanuel Macron committed a rather delicious faux pas on Wednesday that left his Australian audience scratching their heads.
Mr Macron has been in the country on a diplomatic trip, discussing weighty issues like climate change and defence.
The president's immaculate English, however, failed him momentarily as he thanked PM Malcolm Turnbull.
"Thank you and your delicious wife for your warm welcome, the perfect organisation of this trip," he said.
"Thanks to you and Lucy, thank you very much, Mr Prime Minister," he added, before the two men shook hands.
The French president had been speaking in English, and some watching the press conference were not quite sure if they had heard correctly – or if Mr Macron had, indeed, committed a little lèse majesté.
Recordings of the exchange quickly confirmed that Mr Macron had referred to Mrs Lucy Hughes Turnbull, recipient of the order of Australia and chief of the Greater Sydney Commission, as "delicious".
But all was not quite what it seems.
The French word is délicieux, which can be used to describe a very tasty meal.
But it can also be used to refer to something very good or very agreeable, in the sense of "delightful". Mr Macron chose the word he wanted, but not the meaning he wanted.
The French president's command of English is considered to be excellent. A week before Wednesday's slip-up, he addressed the US Congress in Washington DC.
His speech – including a few puns and jokes – earned him a standing ovation and the praise of many on social media for his eloquence.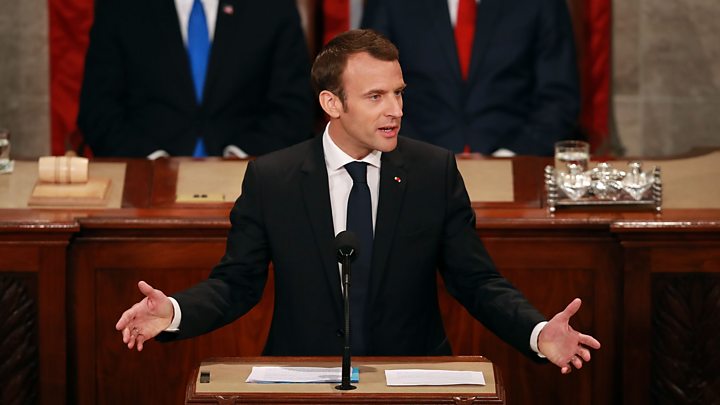 Wednesday's slip-up, by comparison, was quickly forgiven, with Prime Minister Turnbull smiling and shaking hands with Mr Macron.
There is, of course, a long history of political messages lost in translation, some of which were catalogued by BBC Culture.
A translator in the White House back in 1830 rendered a request from Paris – le gouvernement français demande – as a demand, the arrogance of which offended the English speakers.
But perhaps the oddest story comes from US President Jimmy Carter, who famously expressed a sexual desire for communist Poland in 1977, thanks to an interpretation slip-up.