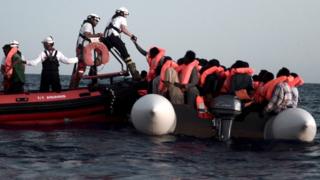 Italy's Prime Minister Giuseppe Conte is travelling to Paris to patch up a quarrel over Italy's handling of migrants rescued off Libya.
Mr Conte will have a working lunch with French President Emmanuel Macron focusing on the migration challenge.
The two governments have recently traded angry words over Italy's refusal to accept a rescue ship, Aquarius, carrying 629 mainly African migrants.
The ship is now sailing to Valencia in Spain. It is expected there on Sunday.
Mr Macron had accused Italy of "cynicism" and "irresponsibility" for failing to take in the Aquarius migrants.
Italy responded by accusing France of "hypocrisy", arguing that Italy's resources were severely stretched and that its EU partners must do more to help it cope with the arrivals.
The acrimony was so bad that Italy summoned the French ambassador and cancelled a meeting between the two countries' economy ministers.
On Wednesday evening Mr Macron phoned Mr Conte to tell him he had not meant to offend Italians. "It's time for collective action," Mr Macron said.
France also said it was willing to take in migrants from the Aquarius after they arrive in Spain if they "meet the criteria for asylum".
Italy on Wednesday allowed a ship carrying more than 900 migrants to dock in Sicily.
The continuing arrival of boatloads of undocumented migrants in southern Europe will be a key issue at an EU summit on 28-29 June.
The EU is deeply divided over asylum policy. Several Central European countries refuse to accept any of the refugees currently housed in Italy and Greece, whose migrant camps are overcrowded.