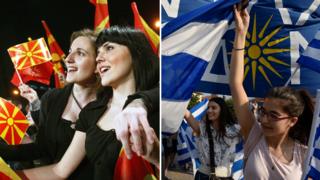 Greece has reached a deal on the future name of its northern neighbour, which called itself Macedonia at the break-up of the former Yugoslavia.
After years of protests and seemingly endless diplomacy, they have settled on the name Republic of North Macedonia, or Severna Makedonija in Macedonian.
The aim of the deal is to remove Greece's block on its neighbour's bid to join Nato and the European Union. But first it will need to be approved by the Macedonian people and Greek parliament.
What's the solution?
Under the deal, the country known at the United Nations as Former Yugoslav Republic of Macedonia (Fyrom) will be named Severna Makedonija, or Republic of North Macedonia.
Its language will be Macedonian and its people known as Macedonians (citizens of the Republic of North Macedonia).
Significantly, they agreed that the new name would be used both internationally and bilaterally, so that even the many countries that recognise the name Macedonia will also have to adopt North Macedonia.
They also agreed that the English name could be used as well as the Slavic term.
The two sides had earlier dropped a number of alternatives, including Gorna Makedonija (Upper Macedonia), Nova Makedonija (New Macedonia) and Ilinden Macedonia.
Why the problem?
The name Macedonia already belongs to a northern region of Greece that includes the country's second city Thessaloniki. By adopting the same identity in 1991, the new Slavic nation infuriated many Greeks, who suspected their northern neighbour of territorial ambitions.
The new Macedonians did not help matters when they named the main airport in the capital, Skopje, after Ancient Greek hero Alexander the Great, as well as a key motorway running from the Serbian to the Greek border.
During the 4th Century BC, the Macedonia of Alexander and his father Philip II before him ruled all of Greece and much beyond it.
Is this row really about Alexander the Great?
Only partly. Greece argues that Macedonia is an intrinsic part of Hellenic heritage. The ancient capital of Aigai is close to the modern Greek town of Vergina, while Alexander's birthplace is in Pella. As part of the deal, it is made clear that the people of North Macedonia have no relation to ancient Greek civilisation.
But while Alexander remains a powerful symbol, recent territorial disputes over Macedonia are far more serious.
When the Ottomans were driven out of the broad region known as Macedonia during the Balkan Wars of 1912-13, it was split up, mainly between Greece and Serbia, but a small part went to Bulgaria.
In World War Two, Greek and Yugoslav Macedonia were occupied by Bulgaria, an ally of Nazi Germany and Italy. Communists from both Yugoslavia and Bulgaria played a part in the Greek civil war that followed, so memories are still raw.
When Yugoslavia broke up, Greece would only accept the new country as "Former Yugoslav Republic of Macedonia (Fyrom)" at the UN, even though more than 100 other countries recognise it as Macedonia.
What has changed?
A new mood has emerged between the governments to put an end to the dispute.
Macedonia's government set the stage for a deal earlier this year when it renamed its airport "International airport Skopje" and the Alexander the Great motorway is now simply "Friendship" (Prijatelstvo in Macedonian).
There is also a push for a settlement both from the EU and Nato which some have put down to fears of creeping Russian influence in the Balkans. Greece is the main obstacle to Macedonia joining Nato.
Greek Prime Minister Alexis Tsipras and Macedonia's Zoran Zaev met on the sidelines of an EU summit in Bulgaria last month, prompting reports that a deal was close.
Then they had a long phone-call on Monday and followed it up with another conversation on Tuesday. Mr Tsipras then gave details of the detail to the Greek president and Mr Zaev announced the deal in a live address.
The text will be signed on Saturday on the shores of Lake Prespa, which spans the countries' borders.
Will the name fly?
The aim is to get Macedonia's parliament to back an agreement before EU leaders meet for a summit on 28 June. Greece will then send a letter to the EU withdrawing its objection to accession talks and a letter to Nato too.
That will be followed by a Macedonian referendum in September or October.
If Macedonian voters back the deal, their government will then have to change the constitution. The Athens government is also adamant that the new name, rather than Macedonia, is used by everyone, nationally and internationally. That idea may be beyond its control.
The deal will finally have to be ratified by the Greek parliament.
That may not be straightforward. Greeks are generally opposed to any name that includes Macedonia and some political parties are unlikely to back this.
Large protests against a deal were held in some 25 Greek cities earlier this month, from Alexander the Great's birthplace of Pella to the second city Thessaloniki. When big crowds descended on the centres of Athens and Thessaloniki in February, renowned Greek composer Mikis Theodorakis, 92, said the neighbouring northern state was illegitimate. "Macedonia was, is and will forever be Greek," he insisted.
What if it doesn't work out?
A lot can happen over a long, hot summer. Delays may hamper the planned timescale and there could be repercussions for both leaders.
Mr Tsipras and Mr Zaev will have to face down opposition within their own countries as well as beyond.
A nationalist party, Independent Greeks, may refuse to back the deal, but it is unlikely to put at risk a ruling coalition that it is part of.
Although the two prime ministers have taken control of the issue, United Nations mediator Matthew Nimetz will likely be called upon to sort out any problems.
Since 1994, this US diplomat has quietly shuttled between Athens and Skopje searching for common ground that would eventually lead to a deal.
It is difficult to see how another deal could work.