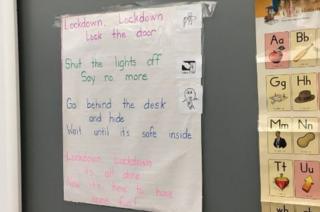 "Lockdown, lockdown, lock the door. Shut the lights off, say no more."
In Massachusetts, a class of five-year-olds are learning this rhyme – set to the lullaby "Twinkle, Twinkle, Little Star" – so they know what to do during a school shooting.
Parent Georgy Cohen spotted the poem taped to a classroom chalkboard at the school in the city of Somerville.
She posted a picture online, writing: "This should not be hanging in my soon-to-be-kindergartener's classroom."
However, she made clear that she didn't blame the kindergarten for its approach, tweeting: "The school is doing exactly what they need to be doing, and I am glad for it. My issue is with the political & cultural factors that brought us to this sad state. Please talk to your legislators about the need for gun reform."
The rhyme, which is written in brightly coloured pen and illustrated with cartoons, reads in full:
"Lockdown, lockdown, Lock the door
"Shut the lights off, Say no more
"Go behind the desk and hide
"Wait until it's safe inside
"Lockdown, lockdown it's all done
"Now it's time to have some fun!"
Ms Cohen came across the poem while touring the school her child will attend after the summer holidays.
She told the Boston Globe she found the image "jarring", adding: "When I was in kindergarten, we had fire drills. It was different – we didn't have these same types of threats."
The picture was widely shared on Twitter, where user Rebecca Watson wrote: "In case you were wondering if we are, in fact, living in a dystopia, just imagine 30 five year olds singing this in unison."
The Twitter account for Dictionary.com reposted it with the definition of the word "disconcerting".
"This sort of thing really makes me question raising my kids in the US," tweeted one San Francisco-based father.
In a joint statement to the Boston Globe, Somerville Mayor Joseph Curtatone and Superintendent Mary Skipper said that lockdown drills were a sad but necessary aspect of the education system, noting: "Unfortunately, this is the world we live in."
The statement reads: "Students in Somerville and across the country know how unnatural this is, as evidenced by their vocal leadership and advocacy this year in response to continuing school shootings.
"Just like school fire drills, lockdown drills have sadly become a common practice in schools, and educators do everything they can to reduce students' anxiety and stress."
Ms Skipper said she agreed that active shooter drills were "jarring" for both children and staff, and rued that the poster – while creative – "speaks to a loss of innocence."