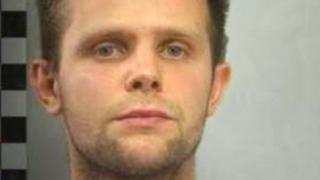 A man has been found guilty of kidnapping 20-year-old British model Chloe Ayling and holding her captive for six days in a farmhouse in Italy.
Lucasz Herba, 30, from Poland, was sentenced at a court in Milan to 16 years and nine months in prison.
The trial heard Herba lured Ms Ayling from south London to Milan with the promise of a photoshoot, and then kidnapped her for a ransom.
He had claimed she went with him willingly, which she denied.
Herba – described by prosecutors as a "narcissist and a fantasist who was obsessed with Miss Ayling" – was also found guilty of attempted extortion and carrying false documents.
At the start of the trial in February, a police officer told the court that Ms Ayling had suffered mental and physical abuse during the six-day ordeal in July last year.
Ms Ayling had travelled to Milan for an expected modelling job.
As she reached the studio, she was assaulted by two men who injected her with the tranquilliser drug, Ketamine, the BBC's Gavin Lee said.
She was then stripped, handcuffed, placed in a holdall bag and driven 120 miles (193km) in the boot of a car to a remote farmhouse near Turin. She was held captive for six days.
In his defence, Herba said he had previously met Ms Ayling and had fallen in love with her.
He claimed he wanted to create a scandal to help her career by creating extra publicity.
Herba said that he was inspired after watching the film By Any Means – in which a similar kidnap plot was carried out.
The court ruled out any involvement from Ms Ayling.
Another man, alleged to have been involved in the kidnap, is in the process of being extradited from the UK. He denies any involvement.