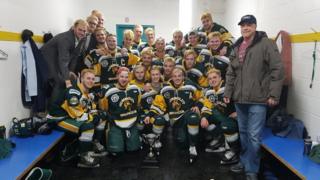 Canadian police have laid more than two dozen charges in a deadly collision between the Humboldt Broncos team bus and a lorry.
Jaskirat Sidhu, 29, was arrested on 16 counts of dangerous operation of a motor vehicle causing death and 13 of causing injury.
He was the driver of the lorry involved in the 6 April collision on a rural road in the province of Saskatchewan.
The charges come three months to the day after the fatal crash.
Ten players on the Humboldt Broncos ice hockey team, aged between 16 and 21, died when their team bus collided with the semi-trailer.
Support staff and the team's head and assistant coaches were also among the causalities. A number of players who survived the crash are still recovering from significant injuries.
Mr Sidhu was not hurt in the collision.
The lorry and bus collided on Highway 35, north of Tisdale. The team had been heading to the town of Nipawin for a play-off game.
Mr Sidhu will make his first court appearance in Saskatchewan next week. He was arrested by the Royal Canadian Mounted Police (RCMP) at his home in Calgary, Alberta.
RCMP officials offered few additional details related to the investigation, saying they were limited in what they could say because the matter is now before the courts.
People around the world mourned the deaths of the young ice hockey players and team staff.
A Go Fund Me campaign for the families of the victims raised more than C$15m ($12m, £8.5m) and became one of the site's most successful fundraisers.
The players lived in Humboldt, Saskatchewan, a community of about 6,000 people, but many came from towns and provinces across western Canada and were billeted with families in the town.