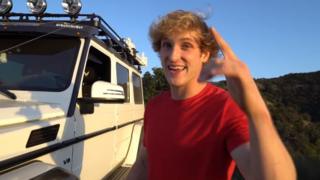 Logan Paul – one of YouTube's most popular and controversial video-makers – has announced he will no longer release material on a "daily" basis.
The 23-year-old began his Daily Vlogs series in September 2016, and has since built up an audience of 17 million subscribers.
He said that his channel would survive, but that he wanted "to exercise [my] creativity in different ways".
Others who have attempted the format have struggled with its demands.
Mr Paul boasted within a video he uploaded on Sunday, that he was responsible for the fastest-ever YouTube channel to attract 10 million subscribers.
But he notably had to put the series on a one-month hiatus at the start of the year after posting a video from Japan that featured an apparent suicide victim.
The backlash that followed led YouTube to briefly suspend all ads on his videos, and the platform still excludes him from its top-tier Google Preferred ad scheme.
Despite apologising for that video, the self-styled maverick has barely tamed his act since.
In recent months, the Los Angeles-based film-maker has joked about eating detergent pods; posted a video showing himself lifting a fish from a pond to seemingly pump its heart; and his most recent video features a mock-fight in which a friend repeatedly punches him in the head before he in turn kicks them several times in the ribs.
But one expert said that Mr Paul understood his audience, who in turn have enjoyed his posts and bought his merchandise.
"Logan tries to position himself as a kind of thought-leader, but in a sort of fun, boisterous, playful way that appeals to a younger demographic," commented Alex Brinnand, co-editor of the news site TenEighty.
"But because of the size of his audience and its age, he's been in a position of authority, and has been a mouthpiece not only for the younger generations but the YouTube community as well."
'Exhausted or engaging'
Mr Paul posted a total of 536 daily vlogs – although in recent weeks there were several skipped days.
That narrowly beat the number posted by the YouTuber generally acknowledged to have done most to popularise the format: Casey Neistat.
Mr Neistat managed to post a video every day for 534 consecutive days before taking a rest in August 2016, saying he had squeezed the medium like an orange "until there's no juice left".
The New Yorker has, however, recently started posting a new series of more highly-produced daily vlogs – called 368 – as part of a collaboration with South African video-maker Dan Mace.
Other notable daily vloggers include:
"Daily vloggers normally go down one of two paths: they either exhaust themselves and their support teams, or they begin to structure their whole lives around the format to make it engaging," said Mr Brinnand.
"That involves a massive lifestyle change that a lot of vloggers don't consider when they start, so it's no wonder that many burn out."
For his part, Logan Paul said he now plans to use the time he has freed up to begin an online talk show and to train for two boxing matches against another YouTuber, KSI, later this year.
"I want to dive into music," he added. "I want to start new business endeavours."