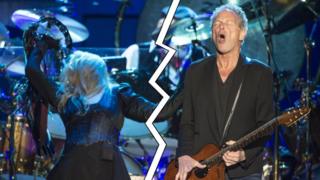 Lindsey Buckingham is suing his former bandmates in Fleetwood Mac after they fired him from a US tour.
The group dismissed their former frontman in January, replacing him with Heartbreakers guitarist Mike Campbell and Neil Finn of Crowded House.
In documents filed in Los Angeles superior court, Buckingham said he lost up to $14m (£10.5m) as a result.
The star also claims the band refused to speak to him about the decision, despite their 43-year relationship.
"Not a single member of the band called Buckingham to break the news to him," the court documents say.
"In fact, not a single member of Fleetwood Mac has returned any of Buckingham's phone calls to provide him with an explanation for his purported expulsion from Fleetwood Mac."
Later in the complaint, Buckingham said he had tried to contact bassist John McVie, "who responded that he had been instructed not to speak" to him.
Buckingham joined Fleetwood Mac in 1975 with his then-girlfriend Stevie Nicks; and steered the band through its most commercially successful era before leaving in 1987.
The 69-year-old rejoined in 1997 and performed with them until January.
The court documents provide a detailed look at Buckingham's departure from the band, starting in 2017 when they began plotting a two-year world tour.
It claims that the rest of the band's Rumours-era line-up – Stevie Nicks, Mick Fleetwood, John McVie and Christine McVie – wanted to start playing in August 2018, while Buckingham wanted to delay the shows until November, so he could release and tour a new solo album.
When the others refused, Buckingham said he agreed to delay his album by a year and stick to their schedule, although he explored the possibility of playing smaller club shows on Fleetwood Mac's days off.
On 28 January, two days after the band played a MusiCares benefit show in New York, Buckingham was told by his manager the tour was off. Three days later, he discovered the band planned to tour without him.
'Cut off'
The court documents include a copy of an email he sent to his co-stars in February, urging a reconciliation.
"After 43 years and the finish line clearly in sight, it is hard to escape the conclusion that for the five of us to splinter apart now would be the wrong thing," he wrote.
"If there is a way to work this through, I believe we must try. I love you no matter what."
But his lawyers say the band members "cut Buckingham off entirely".
"In a cruel final twist, having falsely claimed that Buckingham's request to delay the start of the tour from August to November was the reason for his expulsion," they wrote, "the band announced it would delay the start of the Fleetwood Mac tour until October to accommodate the addition of Buckingham's replacements."
Buckingham is suing his former bandmates for breach of fiduciary duty, breach of oral contract and intentional interference with prospective economic advantage, among other charges.
A spokeswoman for Fleetwood Mac said: "It's impossible for the band to offer comment on a legal complaint they have not seen. It's fairly standard legal procedure to service the complaint to the parties involved, something that neither Mr Buckingham nor his legal counsel have done.
"Which makes one wonder what the true motivations are when servicing press first with a legal complaint before the parties in dispute."
In an interview with Rolling Stone earlier this week, Buckingham suggested that Nicks was behind his expulsion; after she felt he was disrespectful towards her at January's MusiCares show.
Quoting a phone call with the band's manager, Irving Azoff, he said he'd been told: "Stevie never wants to be on a stage with you again".
In April, drummer Mick Fleetwood – who co-founded the group in 1967 with original guitarist Peter Green – told the same magazine the band had hit an "impasse" with Buckingham.
"This was not a happy situation for us," he said, but "we made a decision that we could not go on with him".
Follow us on Facebook, on Twitter @BBCNewsEnts, or on Instagram at bbcnewsents. If you have a story suggestion email entertainment.news@bbc.co.uk.