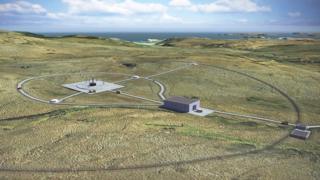 A remote, boggy stretch of land on the north coast of Scotland is likely to become the UK's first spaceport.
The A'Mhoine Peninsula in Sutherland has been chosen as the most suitable place from which to launch rockets vertically to put satellites in orbit.
The UK Space Agency is giving Highlands and Islands Enterprise £2.5m towards the development of the facility.
HIE will work closely with a consortium that includes the American aerospace giant Lockheed Martin.
The goal would be to have launches as early as possible in the 2020s.
"The decision to support the UK's first spaceport in Sutherland is tremendous news for our region and for Scotland as a whole," said HIE's chief executive Charlotte Wright.
"The international space sector is growing and we want to ensure the region is ready to reap the economic benefits that will be generated from this fantastic opportunity."
Lockheed wants to bring the Electron rocket to Scotland. Currently, this vehicle flies out of New Zealand.
A British version of the vehicle would have a propulsion unit and satellite dispenser developed and built at Ampthill in Bedfordshire, Harwell in Oxfordshire, and in Reading.
"Patrick Wood, Lockheed Martin's UK country executive for space. "As a country we've not invested in launch vehicles since 1971 and Black Arrow, which put up the Prospero satellite. I'm really proud to be working with the Lockheed Martin team and our partners in delivering the the first launch from British soil," he told BBC News.
The UK government has been mulling the idea of home spaceports for a decade now, and has updated the legislation that would make them possible.
There is a vibrant small satellite manufacturing sector in the UK, and enabling customers to launch their spacecraft locally should give an added boost to the industry.
Business Secretary Greg Clark will announce further details of government support at the biennial Farnborough Air Show on Monday.
He has set aside £50m. £2m of this is to be made available to continue investigations into the siting of a "horizontal launch" spaceport as well.
This would see a modified aeroplane leave a British runway, climb to altitude somewhere out over the ocean and then release a rocket that can put the satellite in orbit. A number of such systems are presently in development.
One making waves at the moment is owned by entrepreneur Sir Richard Branson. His Virgin Orbit company, based in Long Beach, California, has converted an old Virgin Atlantic 747 to dispense its LauncherOne rocket – a maiden flight for which is imminent.
Cornwall, in particular, is very keen to have Virgin Orbit operate out of Newquay airport. The council and the California company will sign a partnership agreement at the air show. A first mission is being targeted for 2021.
On the eve of the show, Mr Clark said: "The UK's thriving space industry, research community and aerospace supply chain put the UK in a leading position to develop both vertical and horizontal launch sites.
"This will build on our global reputation for manufacturing small satellites and help the whole country capitalise on the huge potential of the commercial space age."
Why is this important?
The UK is in a unique moment. Having pioneered the development of small satellites, through companies such as Surrey Satellite Technology Limited and AAC Clyde Space, it has put itself right at the crest of a new wave. The use of off-the-shelf, low-cost, miniaturised consumer electronics is revolutionising satellites. It is now possible to put enormous capability inside a very small box. Having spaceports would allow UK industry to offer the full "turn key" product to their customers – from design, to build, to launch. The whole package.
What sort of satellites?
Everything you can imagine. Satellites to monitor the weather, to relay communications, and to take pictures of activity on Earth. Small satellites can do all this and they tend to operate in polar-type orbits. That is, they circle the Earth a few hundred kilometres up, passing over the Arctic and the Antarctic. The north of Scotland is therefore ideally situated in this respect. Rockets would fly north, through the gap between Iceland and the Faroe Islands, and Svalbard. If there were launch failures, nothing would fall on populated land.
What sort of rockets?
I've mentioned a couple of vehicles already that could fly from the UK – the Electron and LauncherOne. But there are 60-plus small launch vehicles in development around the world. A few of them are even based in the UK, and they will regard a home spaceport as a great fillip to their endeavours. One of these is Orbex, which is receiving a £5.5m grant to further the development of its 17m-tall vehicle. It is going to establish a rocket manufacturing centre in Scotland, with the intention of using a pad adjacent to the Lockheed Martin one.
What happens next?
Keep an eye on the clock. Time is short for the UK if it wants to capture a significant share of the nascent small launch market. UK regional authorities and rocket operators are going to have to move fast if they want to avoid the opportunities drifting away to other countries. There is a big responsibility on government, too. It has updated legislation but many details still need to be tied down, such as liability rules and safety requirements. If these are made too onerous, it will put up the price of launching satellites. The cost per kilogram-to-orbit has to be competitive.
Chris Larmour, Orbex CEO, told BBC News: "If we weren't in the position we are today with the components being fired, tested and running already – that window would not be possible for us; and I think that window is closing for people who are not in that degree of readiness."
Jonathan.Amos-INTERNET@bbc.co.uk and follow me on Twitter: @BBCAmos