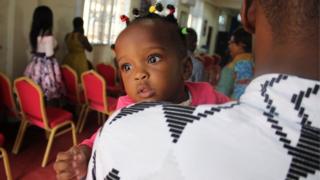 In our series of letters from African journalists, Nigerian novelist Adaobi Tricia Nwaubani writes about the strong opposition to paternity leave in Nigeria.
For a change, it's Nigerian men at the receiving end of outlandish deliberations by our nation's lawmakers. We, women, are usually the victims.
In 2016 for example, Nigeria attracted global head-shaking when its parliament refused to pass a gender equality bill.
Among other rights, that legislation sought to protect Nigerian women from violence, and allow widows to inherit their husband's property.
Then a few months ago as International Women's Day was marked in parliament, Muhammed Kazaure – a lawmaker from northern Nigeria – cautioned his colleagues against handing over "too much power" to women.
"They will overthrow the men. They will mess up," Mr Kazaure said.
"We will marry them. They will serve under us," he vowed.
Nigeria has one of the world's worst records when it comes to women participating in politics, with only 27 out of 469 legislative seats held by women.
The same parliament that has provided all this disturbing, viral comedy last month rejected a bill which would have granted optional paternity leave to all married male employees in private and public service.
Only a few states in Nigeria, such as Lagos in the south-west, allow men a few days off after their wives give birth.
'Trying periods'
Last year, Access Bank made headlines for being the first financial institution in Nigeria to grant staff paternity leave – a week of fully paid time off work.
In contrast, Nigerian labour laws entitle women across all sectors to 12 weeks of fully paid maternity leave.
"The constitution stipulates that there should not be any discrimination based on sex," said Edward Pwajok, the lawmaker who sponsored the paternity leave bill.
"We do know that some men also go through trying periods when women put to birth," he told the chamber, before listing the benefits of having fathers and mothers at home during their baby's first days.
At the end of his speech, Mr Pwajok's colleagues did not point out the severe irony of his using "discrimination based on sex" as a means of persuading the same lawmakers who had turned down the gender equality bill.
Nevertheless, his motion was defeated with a resounding voice vote.
The legislators' main reasons for denying the men paternity leave were similar to those used to deny women various rights: culture and tradition.
For example, they argued, why should a man be home on leave when he is expected to be out hunting and gathering to feed his wife and infant?
Also, in a country where men are allowed to marry as many women as are willing to have them, how many days would a polygamous man end up working if a different wife had a baby each month?
"The woman carried the child for nine months," added Kingsley Chanda, a lawmaker from the Niger Delta region. "The leave is for the woman, not the man."
Lord of the manor
There has been no furore over the denial of paternity leave to Nigerian men – unlike on previous occasions, when lawmakers' decisions on gender rights sparked global outcry and media storms.
The majority of Nigerians, men and women alike, have reacted to Mr Pwajok's proposed bill with mirth and scorn.
"Maternity leave for men?," queried a bewildered male panellist on a TV news show. "Does that make sense?"
"If that is what his constituents voted him for, they should recall him," another male panellist said. "The timing is wrong. The challenges facing our nation are far, far, far beyond this."
Adaobi Tricia Nwaubani:
"Nigerians seem to agree that this is one occasion where the excuse of culture and tradition to frustrate a bill is completely justified"
A talk show host commented that any man given paternity leave should be marked by his wife using an assessment form, detailing exactly how much support she received from her husband during his paid stay at home.
That view is perhaps the most widely expressed reason for despising the bill.
Nigerians seem to agree that this is one occasion where the excuse of culture and tradition to frustrate a bill is completely justified.
It is a society where the typical husband is bred to see himself as the lord of the manor, deserving to put his feet up while his meals are served and his every whim attended to.
'Opportunistic men'
So, men who help around the house are considered an aberration, worthy of a medal.
Whenever my siblings or I disrespected my father during our teenage years, he reeled out his acts of distinction in anguish.
"When you were a baby, I changed your nappies! I bathed you! I fed you!" he would say.
And there we were, repaying his meritorious service to his family with cheekiness. Was that the kind of payback a father should expect after helping his wife take care of their children?
Of course, there is that rising number of 'modern' Nigerian men who must feel cheated by the failure of this bill to pass.
They are men who genuinely want to help their wives cope better with a new arrival by staying at home – especially in these increasingly cosmopolitan times when the usual retinue of relatives ready to assist a new mother are not as close by as before.
But, until further notice, these unique men will have to wait.
Certain men's rights are predicated on women's rights.
A change in the role of women in society is required first for paternity leave to make sense in this part of the world.
Otherwise, it will continue to be perceived as simply a means for opportunistic men to grab a few days off work.
More Letters from Africa
Follow us on Twitter @BBCAfrica, on Facebook at BBC Africa or on Instagram at bbcafrica