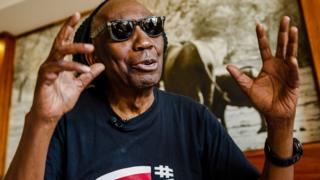 In our series of letters from Africa, journalist-turned-barrister Brian Hungwe reflects on the return from exile of Zimbabwean musician Thomas Mapfumo four months after Robert Mugabe's resignation as president.
Known to his fans as the "Lion of Zimbabwe", Mapfumo has long been a figure of protest.
His music was the soundtrack during the fight for independence and some of his songs were later banned by state-owned media under Mr Mugabe's government.
So the crowds roared with delight this weekend to have the 72-year-old music legend back on stage in the capital, Harare, after 14 years in self-imposed exile in the US.
He played until the early hours of Sunday morning, revealing a deep nostalgia for his distinctive style of struggle music, known as "chimurenga", which first gained him recognition during the war against the white-minority rule in the 1970s.
It is a haunting combination of electric guitar and traditional instruments, in particular the mbira or a thumb piano. It evokes a deep sense of spirituality, rooted in folklore – with lyrics in the Shona language that are sometimes difficult even for fluent speakers to understand or work out their deeper meaning.
Before his return, the musician tweeted some of his class tracks.
It is no surprise that these were amongst the songs played on radio during the days of the military takeover that led to the end of Mr Mugabe's 37-year rule.
'He messed up'
The dreadlocked musician told me before his concert that Mr Mugabe only had himself to blame for his rushed exit from office.
"Corruption is bad, it's everywhere. If I meet Mugabe, I would tell him, 'You messed up.' He messed up," said Mapfumo, who is pencil thin and whose baritone voice still makes him a focus of attention.
The Lion of Zimbabwe
Aged 10, moved to Mbare township, a centre of black protest, where he heard radio for the first time
Began singing at 16 when still at school
Joined his first group, the Hallelujah Chicken Run Band, in a mining town in 1973 and began to sing in Shona
Founded the Blacks Unlimited in 1978, dubbing his new sound "chimurenga (struggle) music"
Arrested by Rhodesian authorities in the late 1970s, detained without charge for several weeks
In 1980 sang with Bob Marley & the Wailers to celebrate Zimbabwe's independence
Released his album Corruption in 1989 about the Willowgate scandal when ministers illegally bought and sold cars
Went into exile in the early 2000s, moving to the US after suffering censorship and harassment
Affectionately called "Mukanya", the praise name of his Shona clan referring to its totem, the baboon.
Wearing a pan-African coloured shirt, he frowned disdainfully as he relaxed back on to a couch – a soft grey thin mist of cigarette smoke swirling around the hotel room.
He reminisced that the last time he met Mr Mugabe was in January 1992.
"I had gone to pay my condolences – he had lost his wife Sally. He was quite engaging and happy that I had come," he says.
But his songs exposing alleged misrule and corruption won him powerful enemies that eventually forced him into exile two decades later.
"The economy and politics was bad, and I had to leave," said the musician, who rarely elaborates unless pushed.
Brian Hungwe:
"Mapfumo is certainly a man of his convictions and it is no surprise he is also known as 'Gandanga' or rebel"
The country is now moving at speed into uncharted waters, but has challenges ahead, he says.
"I came back to be greeted by many potholes, roads are bad. Yet there are plenty of people driving nice cars.
"But there are no jobs, no industry, it's just chaos."
'Agents of change'
It is not just the political landscape that has changed.
A new generation has no connections to his chimurenga music – house music and urban grooves are shaping the interests of young people.
Yet the young were amongst the thousands that watched him perform on Saturday – and his 1980s song Pidigori Waenda, about the departure of a political dictator who stifles dissent and whose exit or death should be a cause for celebration, sent the crowd into a delirium.
A new track Chauya Chauya (Come What May) about the current political situation was interpreted by his fans as a call for people to vote in the first post-Mugabe election in July – and was so popular he played it twice during his homecoming concert.
Mapfumo is certainly a man of his convictions and it is no surprise he is also known as "Gandanga" or rebel.
"There was one Bob Marley, there was one Fela Kuti. And there is only one Thomas Mapfumo," he told me.
"Musicians are agents of change; they should speak out through their music, actions and words."
More on Zimbabwe post Mugabe:
Mapfumo has not come home to stay, admitting that the US is now his "second home".
Like many Zimbabweans, his expectations ahead of elections are high.
However, he strikes a note of caution.
"It's good this is a new beginning. We can only have hope for the future," he says.
"Poverty, unemployment, bad roads and corruption make me sick.
"There is no money in the banks; people are keeping money at home. This must be addressed as soon as possible.
"We want to see significant change here – not what has been happening."
More Letters from Africa:
Follow us on Twitter @BBCAfrica, on Facebook at BBC Africa or on Instagram at bbcafrica.