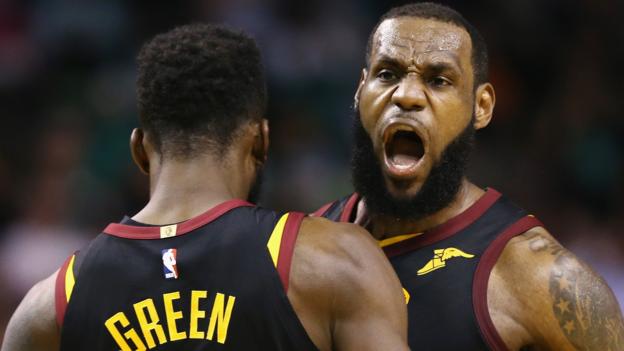 LeBron James admits he is "trying to squeeze this orange until there's no more juice left" after helping the Cleveland Cavaliers clinch the Eastern Conference finals series.
James, 33, had 35 points, 15 rebounds and nine assists as he reached the NBA finals for an eighth straight season.
"At the end of my career you are never going to get someone to say I didn't leave it out on the floor," he said.
Cleveland will face Houston Rockets or Golden State Warriors in the finals.
The Cavs were not expected to reach the finals for a fourth straight year but became the first team to win on the road in the Eastern Conference finals series and the first to beat the Celtics at home in the postseason.
"We've been counted out for a long time this season," added James.
"Right around the trade deadline, no matter if we made a trade or not at that point in time, I kind of just switched my mindset on saying, 'Let's get the most out of this season I can'."
Jeff Green finished with 19 points and eight rebounds, JR Smith added 12 points and Tristan Thompson scored 10 for Cleveland, who beat Boston 109-99 on Friday to force game seven.
Jayson Tatum paced the Celtic attack with 24 points as Boston suffered their only loss in 11 home games during the play-offs.
The Warriors beat the Rockets 115-86 on Saturday to level the series and force a decisive game seven on Monday in Houston.