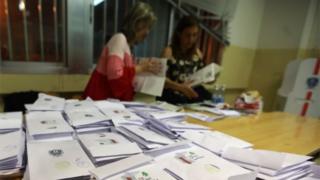 Lebanon's Sunni Muslim prime minister has said his political party lost a third of its seats in parliament in the country's first elections since 2009.
Saad Hariri said the official results of Sunday's polls showed his Western-backed Future Movement had 21 of the 128 seats in parliament, down from 33.
Shia Muslim group Hezbollah and its allies reportedly made gains.
Mr Hariri is still expected to be asked to form a new national unity government that includes all the main factions.
A power-sharing system stipulates that the prime minister should be a Sunni Muslim, the speaker of parliament a Shia and the president a Maronite Christian.