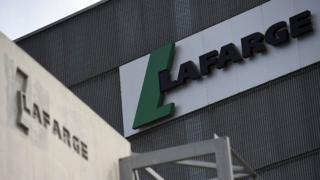 Cement giant LafargeHolcim says its French subsidiary is under formal investigation in France over claims it funded a terrorist group in Syria.
The subsidiary is also accused of complicity in crimes against humanity and endangering lives in Syria.
Last year, Lafarge admitted paying groups in the country in order to keep a factory operating in Northern Syria as violence mounted after 2011.
However, Lafarge says it will appeal against some of the charges.
Eight former managers of the company are also being formally investigated.
An internal investigation last year found evidence the factory provided funding to local armed groups in order to stay open.
The investigation concluded that those in charge of the Jalabiya plant had taken "unacceptable" measures in order to keep the plant open and protect employees.
Various armed factions "controlled or sought to control" the area, it said.
At the time, Syria was subject to EU sanctions imposed on President Bashar al-Assad's government, which lost control of large swathes of the country to various armed groups.
The plant closed in 2014 and a year later LafargeHolcim was formed.
The company is a global giant, employing 80,000 in around 80 countries.
LafargeHolcim chairman, Beat Hess, said in a statement: "We truly regret what has happened in the Syria subsidiary and after learning about it took immediate and firm actions.
"None of the individuals put under investigation is today with the company."
The former managers under investigation include LafargeHolcim's first chief executive, Eric Olsen. He has denied doing anything wrong.