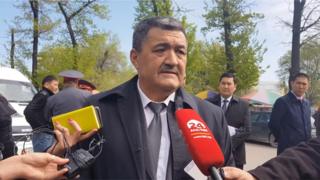 The mayor of Kyrgyzstan's capital Bishkek says that he sometimes tours the city in disguise so that he can see people's problems first-hand.
Albek Ibraimov told local media that he changes into old clothes and wears a false beard so that the locals don't recognise him, the Fergana news agency reports.
"I dress in old clothes, so that no one will know," he said, "I wear a beard, take off my tie [and] I go and look, and see how things actually are."
He made the claim while discussing a major fire that destroyed part of the city's largest market, Osh Bazaar, on 13 April.
His remarks were intended to show locals that he's not out of touch with the traders who are struggling in its aftermath.
Fergana says this is the third fire at the sprawling retail centre so far this year, and Mayor Ibraimov has promised that CCTV and fire hydrants will be installed as part of the reconstruction process, KNews reports.
Mr Ibraimov has also pledged to offer financial help for those who lost both their stock and their income in the blaze.
However, as Russian Mir 24 TV reports, huge numbers of local traders sell their goods illegally, and many round the 17,000 sq m market are set to lose out completely.
Reporting by Alistair Coleman
Next story: Australians split over plans to trap urban peacocks
Use #NewsfromElsewhere to stay up-to-date with our reports via Twitter.