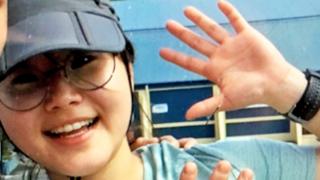 A Korean woman who survived for six days in the Australian wilderness after falling from a steep cliff has been found by emergency crews.
Joohee Han, 25, was climbing Mount Tyson near Tully, Queensland when she slipped and tumbled into a deep ravine.
She was knocked unconscious, but managed to crawl to a waterfall where she stayed for days without any food.
Her friends raised the alarm on Wednesday after she failed to return to her backpacker's accommodation.
"The woman was located… in bushland suffering from dehydration and exposure after being lost in the bush for six days," a police statement said.
"The woman was airlifted from the site by helicopter and later transported to hospital for treatment."
Officials say Ms Han hiked to the summit of the mountain and took some photographs before she fell.
Queensland Ambulance flight paramedic Hannah Gaulke told ABC News that Ms Han was unconscious for around five hours before she managed to crawl to the rocky waterfall.
"She couldn't actually proceed any further and she had no way to get back out and that's where she stayed for days," she said.
Ms Han was reportedly found after screams were heard in the area near the ravine. On Thursday, a helicopter crew passed food down to her before she was winched more than 60ft (18m) to safety.
Police say she was helped by her raincoat, which helped keep her warm until she was able to alert the search helicopter.
"She was actually in really good condition, so she had no significant injuries… she was in good spirits," Ms Gaulke said.