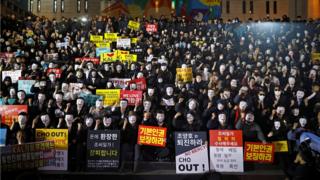 Hundreds of Korean Air employees, many wearing masks to hide their identity, have taken to the streets of Seoul to vent their anger about the company's controlling family.
Passersby joined in as they shouted slogans demanding the resignation of the airline's chairman, Cho Yang-ho.
A slew of incidents of bad behaviour have put his family among the country's most notorious super-rich.
In the latest episode, his younger daughter lost her temper at a meeting.
Cho Hyun-min denied throwing a drink at an attendee but admitted shoving the advertising agency manager, when police questioned her on Tuesday.
Some of those joining Friday's protests were incensed as it emerged that prosecutors had rejected a police request to arrest her over claims there had been attempts to influence witnesses.
The family were first thrust into the spotlight for the wrong reasons in 2014 when Hyun-min's older sister, Hyun-ah, infamously delayed a flight over a packet of nuts. She was sacked and went on to spend five months in jail.
Earlier this year, she was appointed to another executive role, only to resign again recently alongside her younger sister.
Police now say they are also investigating claims of verbal and physical abuse by her mother, Lee Myung-hee.
Customs officials are also looking into whistle-blowers' assertions that for years the family have used Korean Air flights to smuggle luxury goods into the country while avoiding import tariffs.
"We can't put up with Cho family's abuses any more," Park Chang-jin, a flight attendant involved in the "nut rage" incident, told his protesting co-workers, according to Reuters news agency. "Cho family, leave the company!"
Some of them were towing luggage and seemed to have gone straight to the candlelit rally after stepping off flights, said local reports.
"No mercy!" others yelled.
Family patriarch Cho Yang-ho (who is also chairman of the Hanjin chaebol, or conglomerate, which owns Korean Air) has apologised for his family's behaviour, but the scandal seems set to grow.
Scores of staff members have joined an online chat forum to report alleged further incidents of wrongdoing.