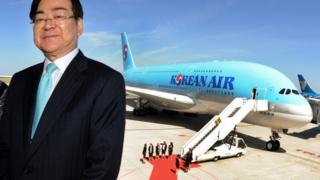 Police have banned the wife of the chair of Korean Air from leaving South Korea as they investigate claims she verbally and physically abused staff.
Lee Myung-hee is facing multiple accusations from employees of the Hanjin Group chaebol, or conglomerate, which owns Korean Air.
It is the latest in a string of claims of bad behaviour by members of the powerful family.
One of her daughters was jailed after a 2014 conflict over a packet of nuts.
Korean Air has apologised for one incident involving Ms Lee at a hotel, which also took place in 2014.
Video footage has been published showing a woman resembling Ms Lee, throwing items and screaming at construction workers who were remodelling the hotel.
But the company denies other claims of verbal and physical assaults from employees of Korean Air and partner companies, including throwing documents and preventing them from carrying out their work.
Last week hundreds of the airlines employees held a masked protest against the family, calling for the chairman to resign.
Police are set to summon Mrs Lee for questioning, reported Korean news agency Yonhap.
The controversy over the family's conduct stretches back to 2014, when Mrs Lee's elder daughter, Cho Hyun-ah, infamously delayed a flight over a packet of nuts. She was sacked and went on to spend five months in jail.
Earlier this year, she was appointed to another executive role, only to resign again recently alongside her younger sister Cho Hyun-min, who admitted losing her temper at a meeting and shoving an advertising agency manager.
Customs officials are also looking into whistleblowers' assertions that for years the family have used Korean Air flights to smuggle luxury goods into the country, while avoiding import tariffs.