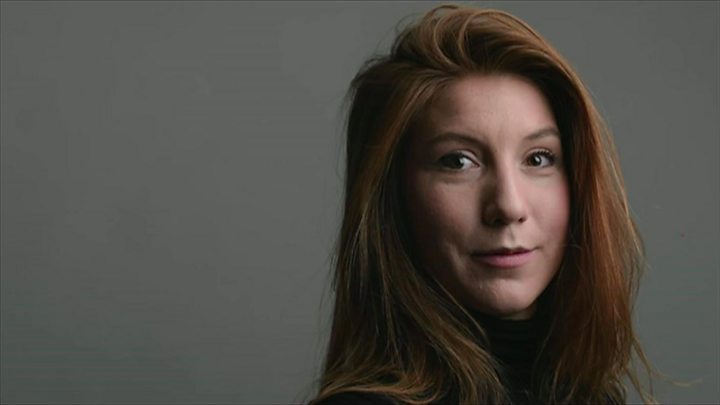 Danish inventor Peter Madsen is contesting his life sentence imposed for murdering Swedish journalist Kim Wall on his submarine but not the guilty verdict, prosecutors say.
Madsen, 47, was convicted last month of the premeditated murder of Ms Wall, 30, and dismembering her body.
His appeal relates "solely" to his sentence and "not the issue of guilt", the Danish prosecutor's office tweeted.
In Denmark, the sentence range for murder is between five years and life.
The prosecutor's office added that Madsen's appeal could not be interpreted as an admission of guilt.
What does life imprisonment mean in Denmark?
Theoretically it can mean just that, but in reality life-term prisoners serve an average of about 16 years.
Police killer Palle Sorensen, paroled in 1998 after 32 years, and Naum Conevski, jailed in 1984 for killing two young men, are unusual in having served considerably longer.
Sorensen died earlier this year. Conevski is still in jail.
One study shows the number of life-termers in Danish prisons increased from 10 in 1997 to 25 in 2013. The 2015 study said only every fifth or sixth murder convict was serving life.
What has Madsen been convicted of?
Madsen was found guilty of the premeditated murder and sexual assault of Ms Wall on 25 April this year after previously admitting to dismembering Ms Wall's body on the submarine and throwing her remains overboard.
Her remains were found by Danish police at sea 11 days after she interviewed him on board his homemade vessel.
The case was heard by Copenhagen City Court Judge Anette Burkoe and two jurors. Judge Burkoe described the incident as the "cynical and planned sexual assault and brutal murder of a random woman".
She said Madsen had "failed to give trustworthy explanations" and had "shown an interest for the killing and maiming of people and has shown an interest for impaling".
What do we know about the murder?
Ms Wall had been researching a story about Madsen's venture and was last seen on the evening of 10 August as she departed with him on his self-built 40-tonne submarine, UC3 Nautilus, into waters off Copenhagen.
Her boyfriend raised the alarm the next day when she did not return from the trip. Madsen was rescued at sea after his submarine sank the same day. Police believe he deliberately scuttled the vessel.
Ms Wall's mutilated torso was spotted by a passing cyclist on 21 August but her head, legs and clothing, placed in weighted-down bags, were not discovered by police divers until 6 October.
After his arrest, Madsen gave differing accounts of what had happened on board his submarine.
During the opening session of his trial, prosecutors said there was a suspicion that he had "psychopathic tendencies" after investigators discovered films on his computer showing women being tortured and mutilated.