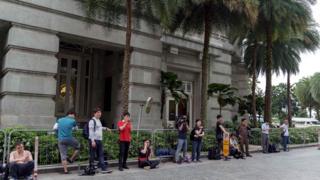 Singapore police have arrested two South Korean journalists who are accused of trespassing in the home of the North Korean ambassador ahead of next week's Trump-Kim summit.
Police said they were called to the residence on Thursday afternoon.
North Korean leader Kim Jong-un is expected to arrive in Singapore for the summit on Sunday, reports say.
Mr Trump has said he will consider inviting Mr Kim to the White House if the Singapore meeting goes well.
The US and its regional allies want to see North Korea give up its nuclear weapons but Mr Trump has acknowledged that it "will take longer" than one meeting to realise that goal.
What do we know about the arrests?
Singapore police said on Facebook that two South Koreans aged 42 and 45 working for South Korean broadcaster KBS had been arrested.
Two other South Koreans are under investigation.
About 3,000 journalists are expected in Singapore to cover the summit.
Meanwhile a Mr Kim lookalike said he had been questioned on arrival in Singapore.
The Hong Kong-based impersonator calling himself Howard X said on Facebook that he was questioned for two hours by immigration officials.
"They search my bags and then told me that this is a very sensitive time to be in Singapore and that I should stay away from the Sentosa Island as well as the Shangri-La hotel in town," Howard X said.
How is Mr Trump preparing for the summit?
Mr Trump has previously had a policy of placing "maximum pressure" on North Korea to force it to change course.
But on Thursday he said he did not want to use the term any more "because we're going into a friendly negotiation", although he warned he had more sanctions he could use.
He also said he was "totally prepared to walk" if the summit did not go well, but if it did go well an invitation to Mr Kim to visit Washington was not out of the question.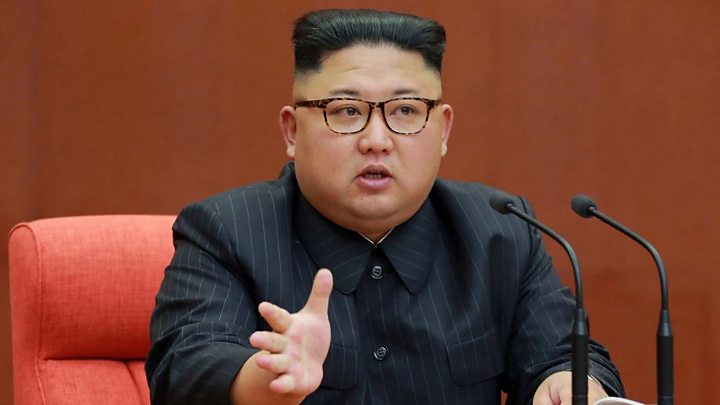 Earlier, Mr Trump said he did not think preparation was essential for his meeting with the North Korean leader.
"I think I'm very well prepared. I don't think I have to prepare very much. It's about attitude, it's about willingness to get things done," he said.
Mr Trump also dismissed speculation that US basketball player Dennis Rodman – who has visited North Korea several times and is a friend of Mr Kim's – had been invited to the summit.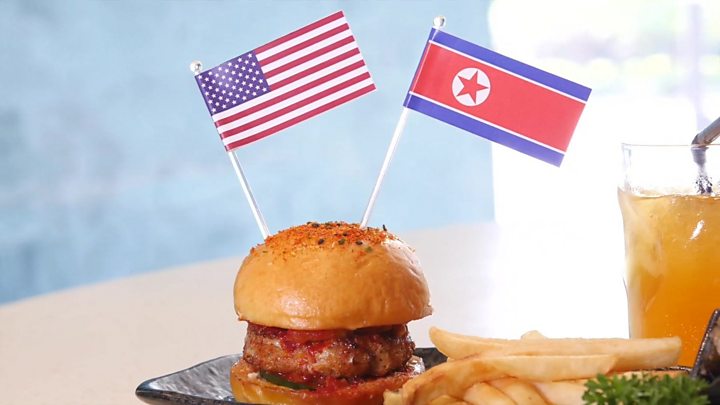 "I like him. He's a nice guy. No, he was not invited," he said.
What moves are other countries making?
Japanese Prime Minister Shinzo Abe has visited Mr Trump, part of a flurry of diplomatic activity in the run-up to the summit as countries try to ensure their interests are not overlooked.
On Thursday he said he was confident Mr Trump understood Japan's concerns about its citizens who were abducted by North Korea in the 1970s and 1980s to help train its spies in Japanese language and customs.
Mr Abe said he wanted to "directly face North Korea and talk with them so that the abduction problem can be resolved quickly".
He also reiterated Japan's policy to pursue "real peace" in the region and said if North Korea "is willing to take steps" in the right direction it has a "bright future ahead".
Meanwhile Russian Foreign Minister Sergei Lavrov has visited Mr Kim in Pyongyang, laying the groundwork for Mr Kim to visit President Vladimir Putin in Moscow later this year.
Mr Kim has also had two meetings with South Korean President Moon Jae-in, who in turn has visited Mr Trump in Washington.
In an indication that China is still a key player in the relationship, Mr Kim has also made two trips to Beijing, meeting President Xi Jinping.