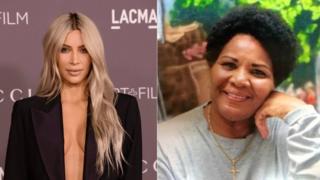 Kim Kardashian West and the president's son-in-law Jared Kushner are teaming up to free a 62-year-old great-grandmother from jail, her lawyer says.
Alice Marie Johnson was sentenced to life in prison without parole in 1996 for a first-time, non-violent drug offence.
Her petition for clemency was denied by the Obama administration.
A lawyer for Mrs Kardashian West said she hopes to convince President Donald Trump to pardon Ms Johnson.
According to news website Mic, the case is being reviewed by White House lawyers.
"It'd be nice if she got out before Mother's Day," Ms Johnson's daughter Catina Scales told the BBC.
"I'm grateful to God for bringing Kim along."
Ms Johnson's story first caught the reality television star's eye after she saw a short video about the case. Mrs Kardashian West shared it on her Twitter account and the video garnered 3.84m views.
She asked her personal lawyer, Shawn Holley, to get involved in the case. Ms Holley confirmed that Mrs Kardashian West has spoken with Mr Kushner numerous times on Ms Johnson's behalf.
"We would provide her with the documents to corroborate all the things she was saying about Alice being a wonderful person who's served her time very well," says Ms Holley, who also says she has passed messages between Ms Johnson and Mrs Kardashian West.
Ms Johnson was unemployed, recently divorced and desperate to provide for her young children when she became a "telephone mule", relaying messages between drug distributors and sellers. Her subsequent arrest was her first offence.
In part because she went forward to trial, Ms Johnson received a life sentence without the possibility of parole.
"I participated in a drug conspiracy and I was wrong," she wrote in 2016. "It's hard to imagine that I have now served 20 years of my life sentence for that one mistake."
Although Ms Johnson fit the criteria for the Obama-era Clemency Project 2014 – she had served over 10 years, had no gang ties and demonstrated good behaviour while incarcerated – she was denied just before President Barack Obama left office.
Under the initiative, 16,776 petitions poured in. President Obama granted a total of 1,715 pardons or commutations during his time in office.
The project was not continued under President Trump, whose Department of Justice has been much harsher on drug offenders. US Attorney General Jeff Sessions has even suggested the death penalty may be appropriate for some cases.
Ms Holley says Mrs Kardashian West contacted Mr Kushner, who has recently pushed his own prison-reform bill.
Mr Kushner's father, Charles Kushner, served 14 months in federal prison in 2005.
Ms Holley says in the last couple of days, discussions with the White House have "intensified".
President Trump has granted three pardons since coming into office, for former Maricopa County Sheriff Joe Arpaio, former Navy sailor Kristian Saucier and to former adviser to Vice President Dick Cheney, Scooter Libby.
The process is famously opaque, and a decision could come at any time.
Ms Scales says she is hopeful and grateful for the new energy Mrs Kardashian West has been able to infuse into her mother's case.
"She has done a lot financially, paying the attorneys and actually caring about my mother, someone she didn't even know," says Ms Scales. "For her to have that big a heart, I'm just extremely grateful."