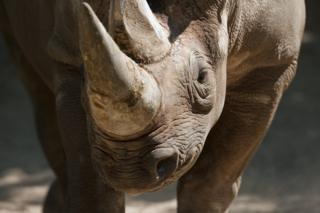 Kenya's Tourism and Wildlife Minister Najib Balala has apologised for telling critics to "go to hell" after they blamed him for the deaths of 10 endangered black rhinos.
Only one of 11 rhinos survived after being moved to a new wildlife park, and it was mauled by a lion.
Critics accused Mr Balala of botching the relocation of the animals.
"I will not resign and those calling for my resignation can go to hell," Mr Balala said on Monday.
He now says his emotions got the better of him.
"I regret I did that outburst," Mr Balala told a parliamentary committee.
The minister also said he regretted "dragging the president's name" into the debate after saying he was only answerable to President Uhuru Kenyatta.
Estimates suggest there are fewer than 5,500 black rhinos in the world, all of them in Africa and some 750 in Kenya.
The rhinos had been relocated from Nairobi National Park and Nakuru National Park to Tsavo National Park as part of an attempt to boost their population.
The 10 rhinos died after drinking water with high concentrations of salt. The only surviving rhino is recovering from an attack by a lion.
Kenyan police say the animals were moved even though it was known that the water at Tsavo National Park had harmfully high salt levels.
A police inquiry found that dehydration, gastric ulcers and bacteria in the respiratory system caused the deaths.
Mr Balala previously blamed government officials for "negligence, poor co-ordination and [poor] communication" when moving the rhinos.
Three more rhinos had been earmarked for relocation but the exercise was called off following the deaths.