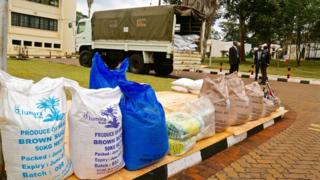 There is confusion in Kenya after the country's interior minister said that harmful levels of mercury had been discovered in sugar consignments seized in police raids last week. He has since been contradicted by top government officials, creating uncertainty and a crisis of public confidence in the country's sugar supply.
What's the row about?
Last week, the authorities said they had seized more than 1,000 bags of illegally imported sugar from warehouses in the capital Nairobi and other parts of the country.
Following the raids, Interior Minister Fred Matiang'i told local media that harmful levels of mercury and copper had been found in samples tested from the sugar seized in Nairobi's Eastleigh area.
But his claim was denied by Trade Minister Adan Mohamed, who denied that the impounded sugar sacks contained mercury.
What are the relevant authorities saying?
The Kenya Bureau of Standards (Kebs), the body that regulates food safety in Kenya, has also denied that any mercury had been found in the samples seized.
But its boss, Charles Ongwae, told MPs on Thursday that the samples had been found to contain copper and lead.
He said the samples contained nearly 21mg/kg of copper, more than 10 times the recommended safe level.
In a shock development on Friday, Mr Ongwae was arrested, along with several other Kebs officials, in connection with the scandal.
Meanwhile, Kenya's Government Chemist, which is tasked with carrying out biochemical analysis of products suspected to be toxic, refused to tell the BBC whether or not tests had shown the presence of contaminated sugar.
It referred the BBC to the Ministry of Health, which has so far not commented on the issue and did not respond to multiple requests for an interview.
Should Kenyans be worried?
It is hard to say anything definitive at this point, given the contradictory reports that have been coming from different government authorities.
But experts in the field are not impressed at the government's handling of the situation.
"Conflicting information from the government should be a cause for worry for Kenyans", says Dr Catherine Kunyanga, senior lecturer at the University of Nairobi's department of food science, nutrition and technology.
"Any presence of heavy metals in foodstuffs should worry consumers," she says.
If the reports of heavy metals contaminating sugar supplies are confirmed, she thinks it would be a cause for concern, especially when it comes to lead.
Lead is more toxic than mercury, she says, and children are particularly vulnerable to the harmful effects of lead, which can damage the brain and nervous system.
As for copper, Dr Kunyanga says it could have been introduced if the soil or water feeding the sugarcane plant was contaminated.
Her advice to Kenyans is to stop buying cheap sugar, which is more likely to be contaminated.
What's being done about it?
The health ministry has instructed public health officials in all of Kenya's 47 counties to test samples of all sugar being sold.
A health ministry official told the BBC on Wednesday that it was still considering whether to make any comment on the scandal, calling it "an internal security issue."
How have people's lives been affected?
Sugar prices have increased in shops in some parts of the country, creating problems for both traders and consumers.
Dakane Ahmed, a shopkeeper in Nairobi's Eastleigh area, says he has to walk long distances in search of sugar to restock his shop.
"We used to buy a 50kg bag of sugar for 4,000 Kenyan shillings (£30; $40), but now it's 6,300 shillings (£47; $62).
"Now we have to go around looking for sugar, which is not available in warehouses in this area," he says.
Mr Ahmed says he has almost doubled the price of 1kg of sugar, from $0.80 (£0.60) to $1.50 (£1.10), and he is worried that poor customers will no longer be able to afford it.
How have Kenyans reacted?
Kenyans on social media have expressed worry about consuming toxic sugar and many questions still remain unanswered.
Many have been using the hashtag #sugarylies on Twitter to criticise what they see as misleading and false statements being made about the scandal by politicians.