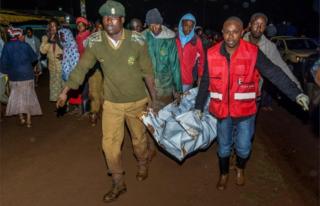 Officials in Kenya say a dam has burst after heavy rain, causing "huge destruction" and killing at least 10.
The breach happened in the town of Solai, 190km (120 miles) north-west of the capital, Nairobi.
"The water has caused huge destruction of both life and property. The extent of the damage has yet to be ascertained," said Lee Kinyajui, governor of Nakuru county.
The Kenyan Red Cross says it has rescued 39 people so far.
Locals told Kenya's Daily Nation that they heard an "explosion" from the Patel Dam before water started pouring out, sweeping hundreds of homes before it.
Rongai police chief Japheth Kioko gave the outlet a higher death toll, saying 20 bodies had been recovered and that rescue work was ongoing.
Several people are feared to be trapped in thick mud which spewed from the reservoir, spreading over a radius of almost two kilometres.