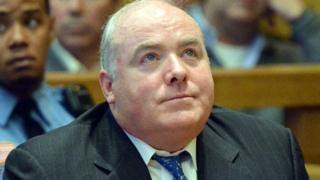 The highest court in the US state of Connecticut has thrown out the murder conviction of a relative of the Kennedy family.
The supreme court recommended a new trial for Michael Skakel, whose aunt Ethel was the widow of former US attorney general Robert F Kennedy.
Mr Skakel was found guilty in 2002 of killing a teenage neighbour in 1975.
He was released on appeal in 2013, but the conviction was reinstated by the supreme court in 2016.
Mr Skakel has always maintained he is innocent.
His defence team has long claimed that his original trial lawyer did not defend him properly.
In its latest ruling in the drawn-out legal battle, the Connecticut court said it now agreed that there had been been "inadequate performance" by the lawyer and that Mr Skakel was "entitled" to a fresh trial.
Prosecutors must now decide whether they will try the case again, the New York Times reported.
Mr Skakel's current lawyer, Hubert Santos, welcomed the court's decision on Friday, adding: "This has been a long road for Michael."
The battered body of 15-year-old Martha Moxley, who lived near the Skakel family's home in wealthy Greenwich, Connecticut, was found on the lawn of her parents' house in 1975.
She had been bludgeoned with a golf club, which was later traced to a set owned by Mr Skakel's mother, and stabbed in the neck with the shaft of the club.
The prosecution in the original three-week trial had alleged that Mr Skakel – who was also aged 15 at the time – had been motivated by jealousy.
There were no witnesses or forensic evidence, but several people later testified that they had heard Mr Skakel confess to the crime.