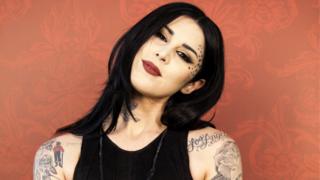 Kat Von D might not be a household name to everyone, but the celebrity tattooist-turned-make-up mogul is extremely influential in her field, with a social media reach of millions.
In recent days the pregnant 36-year-old has found herself at the centre of a huge online row after announcing on Instagram that she and her husband plan to raise their son vegan and vaccination-free.
Many fans have accused her of being irresponsible for airing anti-vaccination views to a huge audience – with a growing movement threatening to boycott her brand.
After the huge backlash, she finally addressed the scandal on Thursday, asserting their right to medical privacy and complaining about online harassment.
But in recent days some had praised her for speaking out – asserting her, and their right, to choose how they raise their children.
Experts say this logic is flawed because widespread immunisation is integral to keeping society as a whole, and especially its most vulnerable, protected.
Despite science overwhelmingly and indisputably advocating in favour of immunisation, a growing number of parents around the world are resisting medical advice by going their own way.
Gina and Jeremy Frattini from Oakhurst, California, also raise their five children vegan and choose not to have them immunised. They share their journey online with thousands of followers.
Gina says her oldest children had a limited immunisation schedule, but vowed to stop giving any further injections after her two-year-old son suffered cardiac arrest shortly after receiving a DTaP (Diphtheria, tetanus and pertussis) vaccine.
"I almost lost my son, I did lose him – but luckily I was able to gain him back," she says.
She has friends and family that don't agree with her choices, but stands by her views nonetheless.
"We're bringing our children into this world, and we're trying to do the absolute best we can with the information we have and the information we're given," she says.
Although Kat Von D did not elaborate on why she was questioning vaccination, many who take a similar stance base their views on a study – now thoroughly discredited – that claimed the measles, mumps and rubella (MMR) jab was linked to autism. Some vegans resist vaccinations because animal by-products are found in them.
After an outbreak of measles at Disneyland in 2015, Californian state officials passed a controversial law that restricted non-medical (personal and religious) exemptions for children entering private or public schools without immunisations.
Data shows that nursery school vaccination rates jumped after the law passed.
Those without protection instead often get home-schooled, like the Frattini family – but are still subject to state testing.
"It's her uterus, it's her body, it's her child – it's their child together and it's 110% her choice," Gina says, in support of Kat Von D.
But experts, and most politicians, disagree. A number of laws have been enacted around the world to try to coerce parents into opting into immunisation.
Alison Bernstein, 39, is a neuroscientist and assistant professor at Michigan State University.
She speaks out under the username Mommy PHD against pseudo-scientific misinformation among parenting communities.
She expresses extreme sympathy with Gina's son's story, but insists that on a population-wide level, the vaccine injury risk is overall low. She urges people consult with doctors if they have concerns, rather than abstaining.
"Do I care if you dye your kid's hair blue? No – because it doesn't really affect anyone else," she says.
"But this affects people around you. It affects every child that your kid interacts with."
She explains that diseases have different contagion levels and vaccinations only work effectively if a high enough percentage of the community get them to stop the disease spreading: a concept known as herd immunity.
"It's a luxury of herd immunity that our generation has never seen anyone with these sorts of diseases – but they will come back and are coming back."
'Echo Chamber'
A recent study has identified a number of non-medical exemptions "hot spots" in the US that experts believe are vulnerable to outbreaks of vaccine-preventable diseases.
Dr Bernstein says these pockets often emerge when information is shared by word-of-mouth but worries that online communities of so-called anti-vaxxers are creating "echo-chambers" in a similar way.
She firmly disagrees with Kat Von D speaking publicly.
But the make-up mogul and her husband are not alone – a number of high-profile celebrities, including actors Jim Carey and Selma Blair, have been linked to the anti-vaccination movement.
"In the online world, the amount of followers you have is a type of power," says Dr Bernstein.
"Your words have power even though you have not an ounce of expertise in medicine, science, vaccine, immunology, microbiology or infectious disease."
The sentiment is echoed by Courtney Goodman, a fan of the Kat Von D make-up line, who has a daughter with a weakened immune system.
"I just wish she'd educate herself and keep an open mind. Talk to real professionals and real physicians," she says.
"This isn't mom shaming or an attack on her personally. I think she's great. I just simply wish she'd look at all the facts."
Some parents have been more cutting in their criticism. A look at Kat Von D's personal accounts shows thousands of critical comments.
Others troll the beauty account by suggesting eye shadow shades should be renamed after infectious diseases – even creating Photoshop mock-ups.
Caroline Hirons, a UK-based industry expert and blogger with hundreds of thousands of followers, responded by sharing a heart-wrenching story about the near-death of her 23-year-old son from mumps last year.
"You have the absolute unbelievable arrogance of 'a choice' because the rest of us responsible people/parents DID vaccinate," part of her post reads.
Speaking to the BBC, with her son back to full health by her side, she said she felt compelled to speak.
"I responded as a mother who had gone through something horrific, speaking to a pregnant person," she says. "I don't want people to go through what we went through – but that's what's going to happen if people don't get their kids vaccinated."
YouTuber Leesha Ritchie from Arizona has more than 500,000 subscribers, and was one of the first in the beauty community to post a video response to the row.
"I feel like what she [Kat Von D] is doing is kind of irresponsible. The fact she has such a huge platform – it bothers me," she says.
As a veteran to vlogging, she is not reliant on receiving the latest free products from brands like some others are, but understands why concern about PR blacklisting could lead some to resist taking a stand.
Neither Kat Von D nor her beauty line had addressed the anti-vax argument publicly since the controversy snowballed until Thursday.
Kat then addressed it on her Instagram account – denying she was an "anti-vaxxer" and saying she had been subject to harassment and even death threats in recent days.
"Just because we have hesitancies and valid concerns about injecting our baby with specific chemicals and toxins does not mean we are anti anything," the post says.
Elisha Burns, 24, from Texas, is a vegan lifestyle blogger and mother who believes many in her online community are reluctant to talk about vaccines because of this kind of potential reaction online.
"My family and friends are very understanding because they love me no matter what. They have open minds about it," she says.
"Online on the other hand, when people don't know you, they feel able to attack and voice their opinion."
Because some of the response to Kat Von D's post has been positive, she thinks it has been in some ways inspiring.
"People are appreciating her coming out talking about things that people are too scared to talk about it," she says.
"If everyone showed a little bit more compassion for each other, I think we could all live a bit more civilly, despite our beliefs and lifestyle differences."