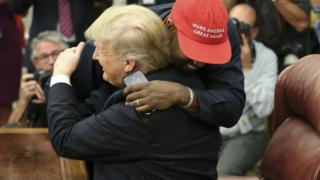 Kanye West has launched into an expletive-filled rant in the Oval Office as he lavished praise on US President Donald Trump.
Wearing a Make America Great Again hat, the pop star said: "There was something about when I put this hat on it made me feel like Superman."
West also banged his fist on the Oval Office's famed Resolute Desk and discussed his bipolar diagnosis.
Mr Trump nodded in approval, saying: "That was quite something."
West replied: "It was from the soul. I just channelled it."
"I love this guy right here," West said, walking behind the desk to hug the seated president, who said: "That's really nice."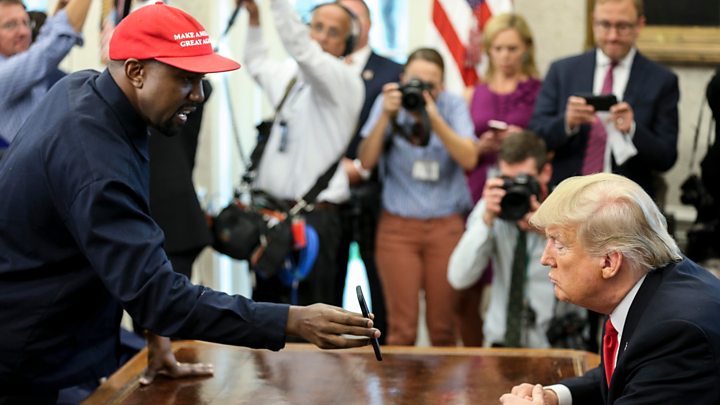 On the Trump hat and Hillary
During a 10-minute monologue that ranged from prison reform to manufacturing, politics and the universe, West said: "They tried to scare me, my friends to not wear this hat, but this hat, it gives me power in a way.
"You know, my dad and my mum separated, so I didn't have a lot of male energy in my home."
He continued: "I love Hillary, I love everyone, right.
"But the campaign, I'm With Her, just didn't make me feel as a guy that didn't get to see my dad all the time, like a guy that could play catch with his son."
Addressing Mr Trump, he added: "There was something about when I put this hat on it made me feel like Superman.
"You made a Superman – that's my favourite superhero – you made a Superman cape for me."
On a future presidential run
Mr Trump was asked by a journalist if West could be a future presidential candidate, and the president replied: "Could very well be."
West told reporters: "Let's stop worrying about the future, all we have is today.
"Trump is on his hero's journey right now."
"You might not have expected a crazy [expletive] like Kanye running up to support."
On schools
"Sometimes people say, 'This kid has ADD [Attention Deficit Disorder], this kid has ADD.'"
"You don't have ADD, school is boring.
"It is boring, it's not as exciting as this," he said gesturing towards his mobile phone.