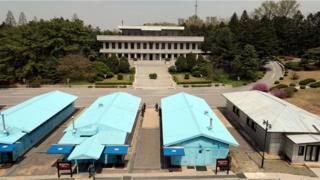 Donald Trump has tweeted to suggest the North-South Korea border for his feverishly anticipated summit with Kim Jong-un, before adding: "Just asking!"
The US president is preparing for historic talks with his North Korean counterpart. "Numerous locations" were still being considered, he said.
But Peace House, on the border between the Koreas, would be a "Representative, Important and Lasting" venue, he mused.
The house hosted the recent summit between North and South Korea leaders.
Mr Kim met the South Korean president Moon Jae-in there last week to discuss denuclearisation of the North – a key issue for any talks with the US.
It was not clear who exactly Mr Trump's breezy tweet was addressed to. His tone belied the historic nature of the planned summit, which if it goes ahead will be the first ever meeting between US and North Korean leaders.
Speaking at a rally in Washington, Michigan at the weekend, the president said he expected the summit to take place "over the next three or four weeks".
Some groundwork has been laid for the meeting – in his previous role as head of the CIA, US Secretary of State Mike Pompeo earlier this month secretly visited the North Korean capital Pyongyang to meet Mr Kim.
But a venue has yet to be confirmed. Mr Trump said in his tweet on Monday that "numerous" locations were being considered. Mongolia and Singapore are understood to be frontrunners.
A meeting at Peace House would make life easy for Mr Kim, for whom foreign travel is exceedingly rare. It was not until last month that he made his first foreign trip as president, travelling to China in a bulletproof train so heavy its maximum speed is just 37mph.
It would also save the North the potential embarrassment of having to borrow a plane. There are reports that none of North Korea's aging fleet of state aircraft would be capable of reaching some of the further away locations suggested for the US summit.